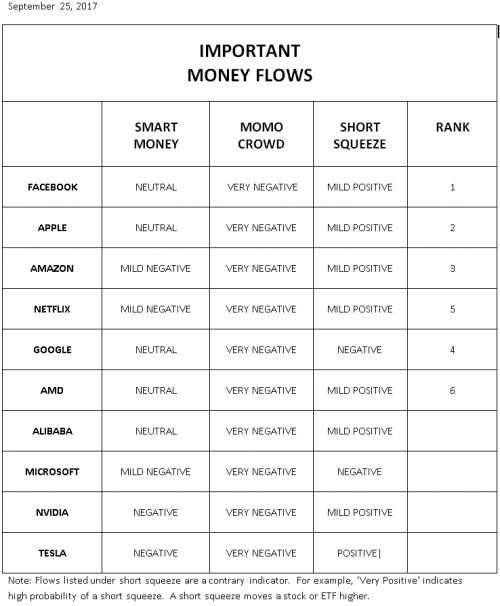 The smart money was selling popular tech stocks when they were near the highs earlier this month. Now they have stopped selling in some of those stocks.
Let's explore further to gain an edge.
Click here to see a table showing my calculations of the smart-money action as of Sept. 25 in 10 popular tech stocks, including the FAAMG and FAANG stocks. FAAMG stocks are Facebook FB, Apple AAPL, Amazon AMZN,  Microsoft MSFT,  and Alphabet GOOG,  GOOGL.  For FAANG stocks, replace Microsoft with Netflix NFLX.  The table also includes Advanced Micro Devices AMD,  Nvidia NVDA, Tesla TSLA,  and Alibaba BABA, as investor interest in these four stocks is high.
Now compare to this table showing the smart money's actions in the same stocks on Sept. 1.
It's obvious by looking at the two that smart money was a much bigger seller on Sept. 1 than now. If you were to pull up charts on each of these stocks, you will notice that smart money was selling into strength on Sept. 1 while the momo (momentum) crowd was aggressively buying. The smart money lightened up near the highs, and the latecomer momo players are now holding losses. Now the smart money is no longer selling several of these stocks.
Why should you pay attention to these tables? I can show you charts like this one for Apple stock with technical analysis and published in "This is (probably) how low Apple's stock will go" and you will find them helpful, but a bigger edge is to be gained from smart money flows.
I have been watching and investing based on money flows for a very long time. I have found that looking at the smart money, the "momo" (momentum) crowd and short squeezes are the most important…Read more at MarketWatch
You are receiving less than 2% of the content from our paid services …TO RECEIVE REMAINING 98%, TAKE A FREE TRIAL TO PAID SERVICES.
Please click here to take advantage of a FREE  30 day trial.
Check out our enviable performance in both bull and bear markets.
FREE: SUBSCRIBE TO 'GENERATE WEALTH' NEWSLETTER