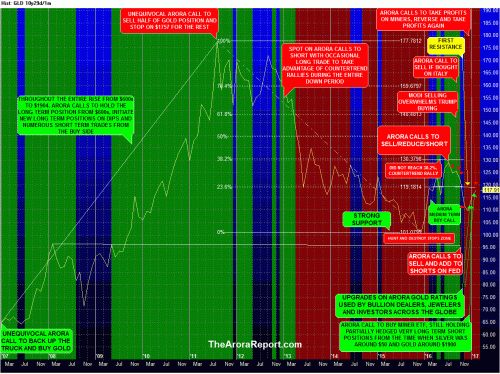 Please click here for long-term annotated chart of GLD.
Let us first discuss why gold is moving today and the importance of Mnuchin before discussing The Arora Report updated ratings on gold and silver, long-term allocation to precious metals and short-term trades.
Who Is Mnuchin?
Steven Mnuchin is the Treasury secretary of Trump's administration.  The Treasury secretary has always been a powerful position. Mnuchin is especially powerful because of his hedge fund background and the changes Trump is making.  Mnuchin understands the markets.
Typically the Treasury secretary does not directly comment on gold but comments on dollar, budgets, taxes, deficits, borrowing, infrastructure spending and other fiscal matters.  All of these move gold.
Mnuchin Moves Gold
Earlier today in a comment, Treasury Secretary Mnuchin failed to bolster the case for quick stimulus and also the case for strong dollar.  The dollar has weakened, especially against yen.
Mnuchin's comments are running gold up.  Gold bulls see dollar weakening and stock market falling.  One of the reasons for the stock market going up has been the prospects of quick  fiscal stimulus.  Gold bull's reasoning is that without quick stimulus stocks will fall and money will move into gold.  Now gold has moved into a heavy resistance zone.
Please see updated gold ratings below.
Stocks are simply overlooking Mnuchin's comments and interpreting them differently than gold.  The result is that there is no down draft in stocks.
Oil was already in a bullish mode when Mnuchin's comments came.  Weaker dollar caused oil to rally further. Previously oil was rising on API reporting crude inventories falling by 884K barrels vs. consensus of increase of 3.5 million barrels.  EIA data released at 11:00 am ET showed oil inventories had a build of 0.6 million barrels vs. consensus of 3.48 million barrels…Read more at Kitco
You are receiving less than 2% of the content from our paid services …TO RECEIVE REMAINING 98%, TAKE A FREE TRIAL TO PAID SERVICES.
Please click here to take advantage of a FREE  30 day trial.
Check out our enviable performance in both bull and bear markets.
FREE: SUBSCRIBE TO 'GENERATE WEALTH' NEWSLETTER