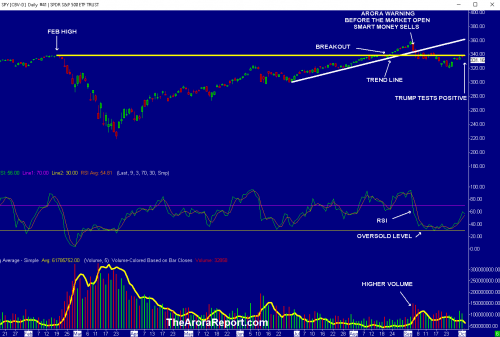 To gain an edge, this is what you need to know today.
Trump Tests Positive
President Trump has tested positive for coronavirus.  Our best wishes to President Trump and First Lady for a speedy recovery.
What does it mean for the stock market? Let's explore with the help of a chart.
Please click here for a chart of S&P 500 ETF (SPY) that represents the benchmark stock market index S&P 500 (SPX).
Note the following:
President Trump has mild symptoms.
Will the White House be truthful on an ongoing basis about Trump's health?
Vice President Pence and Treasury Secretary Mnuchin have tested negative.
Vice President Biden was in close quarters with President Trump during the debate, Biden status is not known as of this writing.
The hope of most Americans is that this will bring the country together, Trump will recover quickly and in the end it will be positive for the country.  If this happens it will be a positive for the stock market.
There is speculation that Democrats and Republicans are now more likely to pass the stimulus bill.  If this occurs, this will be positive for the stock market.
Will it help Biden or Trump in the election?  The prevailing wisdom at this time is that it will help Biden. However, there may be a sympathy vote for Trump that nobody is expecting.
How will this impact Supreme Court nomination hearings? Trump's base is highly energized about this issue.  A section of Democratic base is also energized but overall energy on this issue is on Trump's side.
An influential Chinese media outlet with close ties to the communist party is gloating over Trump catching coronavirus.   Nobody is talking about it but prudent investors should be concerned about the international impact if Trump does not recover quickly.
The chart shows that the reaction to Trump testing positive is mild as of this writing. The reason that the reaction is not severe is that the momo crowd is aggressively buying the slight dip.
If the stock market goes down from here, it will be a failure at the breakout line shown on the chart.  In traditional technical analysis, such a failure will be considered very negative for the stock market.
After rallying, RSI is turning negative.  This is a negative in the very short term.
The latest data shows that the economy is weakening.  Weak data coming at a time when Trump tests positive is negative for the stock market. However, the bulls will argue that it is positive because it will lead to more borrowing and more money printing.
Under these circumstances, investors should pay special attention to 'Protection Bands and What To Do Now?'
Weak Data
The main stream call has been that the economy will continue to strengthen.  The Arora Report call has been that the strength in the economy so far, in  part, is due to pent up demand and as pent up demand gets satisfied, a period of weakness in the economy is ahead.   So far, The Arora Report call has proven spot on.  Today's jobs report is weaker than expected.
Non-farm Payrolls came at 661K vs. 800K consensus.  However it appears to be mostly the loss of government jobs.  Non-farm Private Payrolls came at 877K vs. 814K consensus.
Momo Crowd And Smart Money In Stocks
The momo crowd is 🔒 (To see the locked content, please take a 30 day free trial)  the dip in the early trade.  Smart money is 🔒.
Here is the key difference between the momo crowd and smart money that investors need to understand — smart money always gives first priority to protecting their capital, the momo crowd is usually too busy chasing the momentum and not thoughtful about protecting their capital.
Gold
The momo crowd is 🔒 gold in the early trade.  Smart money is 🔒.
Investors need to understand that for the most part the gold crowd is different from the stock market crowd.
For longer term, please see gold and silver ratings.
Oil
The momo crowd is 🔒 oil in the early trade.  Smart money is 🔒 oil.
For longer term, please see oil ratings.
Markets
Our very, very short-term early stock market indicator is 🔒.  This indicator, with a great track record, is popular among long term investors to stay in tune with the market and among short term traders to independently undertake quick trades.
Interest rates are ticking down and bonds are ticking up.
The dollar is stronger.
Trading futures is not recommended for most investors. The purpose of providing this information is to give an indication of the premarket activity that usually guides the activity when the market opens.
Gold futures are at $ 1908, silver futures are at $24.00, and oil futures are $36.73.
S&P 500 futures resistance levels are 3320, 3390 and 3420: support levels are 3278, 3228 and 3182.
DJIA futures are down 477 points.
Protection Bands and What To Do Now?
It is important for investors to look ahead and not in the rear view mirror.
Consider continuing to hold existing positions. Based on individual risk preference, consider holding 🔒 in cash or treasury bills or short term bond funds or allocated to short term tactical trades and short to medium-term hedges of 🔒 and short term hedges of 🔒. This is a good way to protect yourself and participate in the upside at the same time.
You can determine your protection bands by adding cash to hedges.  The high band of the protection is appropriate for those who are older or conservative. The low band of the protection is appropriate for those who are younger or aggressive.  If you do not hedge, total cash level should be more than stated above but significantly less than cash plus hedges.
It is worth reminding that you cannot take advantage of new upcoming opportunities if you are not holding enough cash.  When adjusting hedge levels, consider adjusting partial stop quantities for stock positions (non ETF); consider using wider stops on remaining quantities and also allowing more room for high beta stocks.  High beta stocks are the ones that move more than the market.
This post was just published on ZYX Buy Change Alert.
A knowledgeable investor would have turned $100,000 into over $1,000,000 with the help from The Arora Report. NOW YOU TOO CAN ALSO SPECTACULARLY SUCCEED AT MEETING YOUR GOALS WITH THE HELP OF THE ARORA REPORT. You are receiving less than 2% of the content from our paid services. …TO RECEIVE REMAINING 98% INCLUDING MANY ATTRACTIVE INVESTMENT OPPORTUNITIES, TAKE A FREE TRIAL TO PAID SERVICES.
Please click here to take advantage of a FREE  30 day trial.
Check out our enviable performance in both bull and bear markets.
FREE: SUBSCRIBE TO 'GENERATE WEALTH' NEWSLETTER