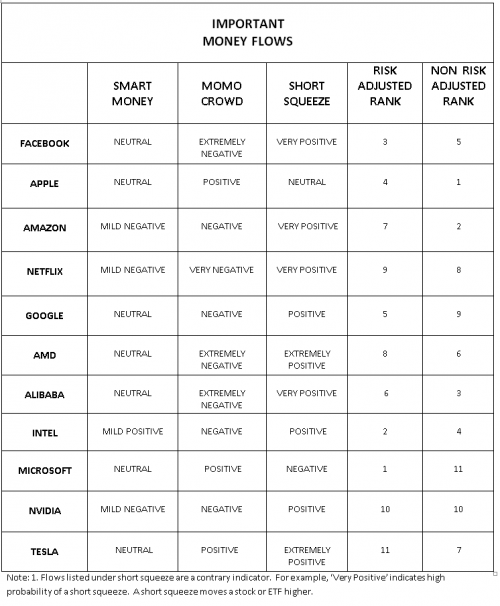 ACT NOW TO SAVE $2,005 — FOR INVESTORS SERIOUS ABOUT MAKING MILLIONS IN MARIJUANA
Money flows are showing that Amazon and Netflix are killing the popular FAANG trade.
What if you had a stock that gave you the foresight of what most are now seeing in hindsight? Yes, such a tool exists in segmented money flows.
When you invest based on the information and analysis that is freely and widely available and used by everyone else, you get no edge. In a rip-roaring bull market like we have experienced over the past nine years, this behavior works out fine, but not great. However, when markets become volatile or a bear market comes, you need an edge to be successful. Segmented money flows provide you one of the best edges out there.
While the momo (momentum) crowd was aggressively buying popular tech stocks in the beginning of October, the smart money had turned cautious in September. Remember, the Dow Jones Industrial Average DJIA fell 22.6% on Oct. 19, 1987, and the stock market suffered a major drop in October 2008. As for this year, please see "Fear of October is creeping into money flows in 11 popular tech stocks."
Even after a downdraft started, the crowd has maintained a high degree of complacency. Investors are suffering from recency bias. Please see "Would you be prepared if the Dow Jones Industrial Average were to fall 5,700 points?"
Chart
Please click here for an annotated chart of 11 popular tech stocks. Please note the following:
• Momo crowd money flows in Amazon AMZN have dramatically changed. Previously they have been consistently positive. Now they have become negative. Smart money flows in Amazon have been consistently neutral to mildly negative. Now they are mildly negative.
• With Netflix NFLX  it's similar. The smart money is mildly negative on the stock, and the momo crowd is very negative.
• Amazon and Netflix represent examples of uninitiated investors getting carried away with their convictions in the face of negative smart money flows. We witnessed it firsthand at The Arora Report. When Netflix was over $400, new subscribers would take a 30-day free trial to our ZYX Buy Change Alert to find that Netflix was not in our model portfolio. They would ask why Netflix was not in our model portfolio. We would explain that in addition to the potential reward, our system takes into account risks and there was too much risk in Netflix at that time. Some investors had such high conviction in Netflix that they would respond by demanding the Netflix be included in our model portfolio or they would cancel their subscription. Netflix has fallen from a high of $420 to about $300 as of this writing.
The same thing happened when Amazon was over $2,000….Read more at MarketWatch.
Do you have food issues or restrictions?  Why not eat healthy yummy food all the time? Click here for a free consultation with a prominent food coach.
A knowledgeable investor would have turned $100,000 into over $1,000,000 with the help from The Arora Report. NOW YOU TOO CAN ALSO SPECTACULARLY SUCCEED AT MEETING YOUR GOALS WITH THE HELP OF THE ARORA REPORT. You are receiving less than 2% of the content from our paid services. …TO RECEIVE REMAINING 98% INCLUDING MANY ATTRACTIVE INVESTMENT OPPORTUNITIES, TAKE A FREE TRIAL TO PAID SERVICES.
Please click here to take advantage of a FREE  30 day trial.
Check out our enviable performance in both bull and bear markets.
FREE: SUBSCRIBE TO 'GENERATE WEALTH' NEWSLETTER