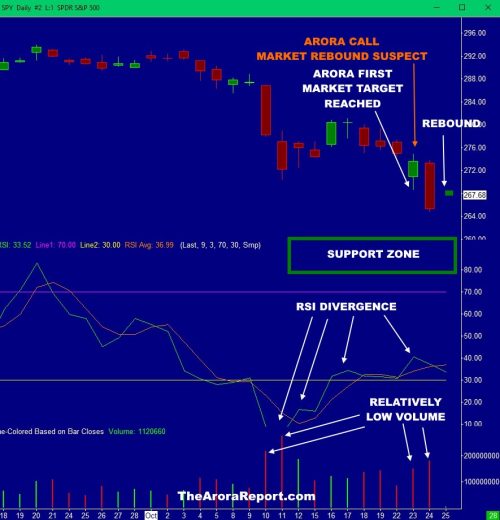 ACT NOW TO SAVE $2,005 — FOR INVESTORS SERIOUS ABOUT MAKING MILLIONS IN MARIJUANA
During the stock market turmoil, the buy-and-hold crowd is keeping the faith. That is not a good thing, as I explain later in this column.
One of the biggest risks with this stock market is the rise of passive investing. Please see "Would you be prepared if the Dow Jones Industrial Average were to fall 5,700 points?" Let us explore with the help of a chart.
Chart
Please click here for an annotated chart of S&P 500 ETF SPY. Similar conclusions can be drawn from a chart of the Dow Jones Industrial Average DJIA, -1.80% ; charts of the Nasdaq 100 ETF QQQ and small-cap ETF IWM show more selling. Please note the following:
• The chart shows RSI (relative strength index) divergence. In plain English, this mean that as stock prices have gone down, RSI has risen. This is positive and indicates a rebound.
• The chart shows Arora's first target, given in advance, was reached. We shared with our subscribers in advance: "If traditional technical analysis holds, there should be a retest of the 2,710 level in the S&P 500. If a retest takes place, hunt-and-destroy algorithms may try to take out stops that naïve investors have placed under 2,710 and then under 2,700. These algorithms may drive the S&P 500 to 2,690. On the positive side, the stock market is oversold. Oversold markets tend to have strong rallies. For this reason, those who are thinking of short-selling here need to be extra cautious (slightly edited for readability)."
• The chart shows that our call was spot on. S&P 500 futures dipped to 2,692.25 and then proceeded to stage a strong rally. Our call was for a dip to 2,690. In this business, it does not get any better than that.
• The Arora Report called the rebound shown on the chart suspect due to many characteristics. First, weak hands were not taken out. When weak hands are taken out, the rebound becomes more sustainable. Second, volume was lackluster, indicating the lack of conviction in the rally.
• As shown on the chart, volume was relatively low during the decline and the rebound, and also during the subsequent drop. This is a negative beyond the very short-term bounce.
• The chart shows the support zone.
• As expected, high-beta stocks were hit disproportionately hard. High-beta stocks are those that move more than the market. Notable among FAANG stocks for their high beta are Amazon AMZN and Netflix NFLX though Apple AAPL, Google GOOG, GOOGL and Facebook FB were not spared. Those are the stocks that also rebound the most. Among popular semiconductor stocks, AMD AMD, STMicroelectronics STM, Nvidia NVDA and Micron Technology MU have been hit. Tesla TSLA has rocketed up on good earnings and a short-squeeze, showing that individual stories matter even when the market is falling….Read more at MarketWatch.
Do you have food issues or restrictions? Why not eat healthy yummy food all the time? Click here for a free consultation with a prominent food coach.
A knowledgeable investor would have turned $100,000 into over $1,000,000 with the help from The Arora Report. NOW YOU TOO CAN ALSO SPECTACULARLY SUCCEED AT MEETING YOUR GOALS WITH THE HELP OF THE ARORA REPORT. You are receiving less than 2% of the content from our paid services. …TO RECEIVE REMAINING 98% INCLUDING MANY ATTRACTIVE INVESTMENT OPPORTUNITIES, TAKE A FREE TRIAL TO PAID SERVICES.
Please click here to take advantage of a FREE  30 day trial.
Check out our enviable performance in both bull and bear markets.
FREE: SUBSCRIBE TO 'GENERATE WEALTH' NEWSLETTER