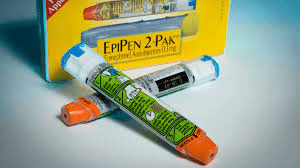 This post was just published on ZYX Buy Change Alert.
MYL has reached a $465 million settlement with the Department of Justice on EpiPen.  This removes the overhang.
MYL now expects  2016 earnings in the range of $4.70 to $4.90 per share excluding items.  Prior guidance was $4.85 to $5.15.
MYL also reaffirmed 2018 target of $6.00 per share.
The point here is that at about 7 forward PE, the stock is very cheap for the long-term investor.
The new buy zone is $35 to $39.56.  Target zone remains $48 to $49.
What To Do Now
Those in the stock may continue to hold.
Those not in the stock may consider scaling in a position in the buy zone.
You are receiving less than 2% of the content from our paid services …TO RECEIVE REMAINING 98%, TAKE A FREE TRIAL TO PAID SERVICES.
Please click here to take advantage of a FREE  30 day trial.
Check out our enviable performance in both bull and bear markets.
FREE: SUBSCRIBE TO 'GENERATE WEALTH' NEWSLETTER