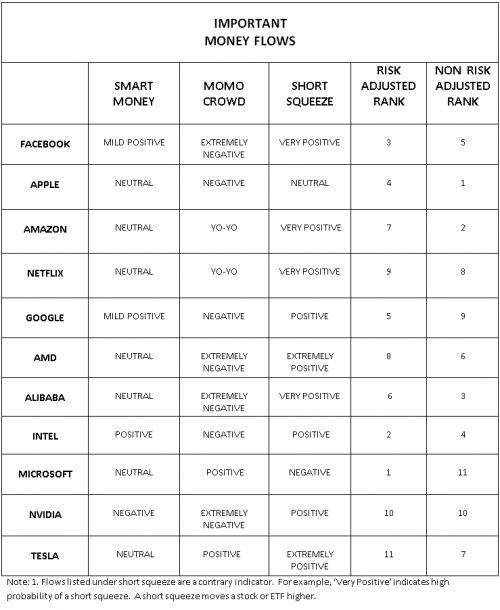 Investors ought to pay attention to the changing character of the U.S. stock market.
What has worked for the past nine years may not work for much longer. Investors may want to prepare now and fine-tune their skills for a different kind of market. I will illustrate the point by showing how money flows give investors an edge.
Let us examine with the help of a chart. Please click here for the chart of money flows in 11 popular technology stocks. Please note the following:
• As Nvidia NVDA was reaching new highs, smart money flows in the chipmaker had turned negative. Since the new high, momo (momentum) crowd money flows in Nvidia have been positive until after the big drop in the stock. If you were paying attention to smart money flows, you got an early warning and saved yourself from big losses or, at a minimum, did not give up your gains.
• Nvidia has been the favorite of analysts and the momo crowd until the most recent earnings report.
• Nvidia is the poster child for bull market excess. It was well-known, prior to the release of the latest earnings report, that some of the end markets for Nvidia chips were flagging. Yet analysts failed to lower their targets. Nvidia has fallen to $162 from a high of $293.
• In the past, even when there have been disappointments, most analysts have not lowered their targets on their favorite tech stocks.
• Something has now changed in analysts' behavior. After Nvidia stock fell, analysts have been reducing their targets.
• Smart money flows are neutral in Apple AAPL, Amazon AMZN, Netflix NFLX and Alibaba BABA.
• Smart money flows are neutral in AMD AMD and Microsoft MSFT, but positive in Intel INTC.
• Smart money flows are mildly positive in Alphabet GOOG, GOOGL and Facebook FB.  In contrast, momo crowd flows are extremely negative in Facebook and negative in Google.
• Smart money flows are neutral in Tesla TSLA, +1.98% but momo crowd money flows are positive.
Rankings
The chart also shows the relative rankings of the 11 popular tech stocks. Those are based on the six screens of the ZYX Change Method. Please click here to learn about the six screens….Read more at MarketWatch.
Pay Attention Character Of The Market Is Changing
The next few years in the markets are likely to be very different from the last nine years. Astute investors are preparing now by increasing their knowledge and skills to extract profits and avoid losses from what's ahead. The deadline to save $2405 is nigh to attend the new updated and expanded Bullet Proof Your Portfolio and Increase Your Returns coaching seminar. Act now by clicking here
A knowledgeable investor would have turned $100,000 into over $1,000,000 with the help from The Arora Report. NOW YOU TOO CAN ALSO SPECTACULARLY SUCCEED AT MEETING YOUR GOALS WITH THE HELP OF THE ARORA REPORT. You are receiving less than 2% of the content from our paid services. …TO RECEIVE REMAINING 98% INCLUDING MANY ATTRACTIVE INVESTMENT OPPORTUNITIES, TAKE A FREE TRIAL TO PAID SERVICES.
Please click here to take advantage of a FREE  30 day trial.
Check out our enviable performance in both bull and bear markets.
FREE: SUBSCRIBE TO 'GENERATE WEALTH' NEWSLETTER