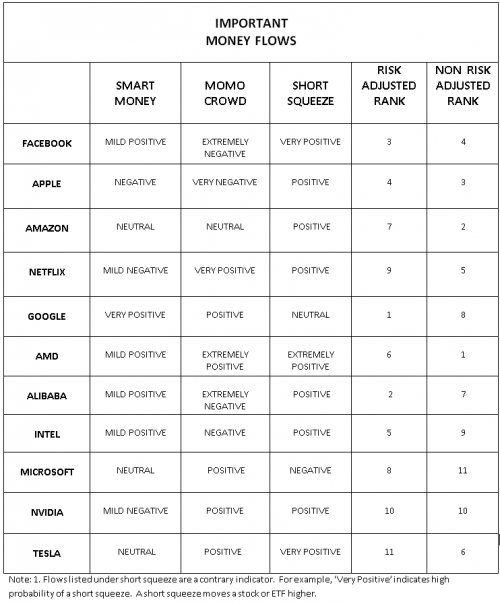 Technology stocks have been the generals of this U.S. bull market.
But a dramatic change in money flows is beginning to happen in popular tech stocks. If this continues, the stock market will be at higher risk. Think of this as an early warning that all prudent investors should heed. Let's explore this issue with the help of a chart.
Chart
Please click here for a chart showing segmented money flows, risk-adjusted rankings and non-risk-adjusted rankings of 11 popular tech stocks. Please note the following from the chart:
• The most dramatic change has been in money flows in Apple AAPL stock. Momo (momentum) crowd money flows have gone from extremely positive to very negative. Smart money (professional investor) flows have gone from mildly positive to negative.
If these trends continue, both risk-adjusted and non-risk-adjusted rankings of Apple will slip. The ranking is determined based on the six screens of the ZYX Change Method. Please click here to see details of the six screens.
What is happening to Apple? The answer lies in the signal The Arora Report provided to its subscribers last week before the news became widely known. The signal was given at a time before the shift in money flows in Apple. For your convenience, here is that signal: "Several AAPL products including Apple Watch, Mac mini and HomePod are affected by the proposed 25% tariff on imports from China. AAPL derives about 70% of its profits from the iPhone. At this time it appears that the iPhone is not on the list. The 'Buy Now' rating on AAPL for those following the 'Good Way' is a 'NO.' The buy zone is being temporarily suspended. For tracking purposes, the plan is to continue to hold the long-term position. Those in AAPL stock may want to review the quantity held."
• There is also a dramatic change in money flows in Amazon AMZN.  The momo crowd has been driving Amazon stock higher. Now momo crowd money flows in Amazon have shifted from extremely positive to neutral.
• As shown on the chart, the momo crowd money flows have turned extremely negative in Facebook FB stock and Alibaba BABA stock. But smart money flows in those stocks are mildly positive.
• AMD AMD stock still holds the number-one position in non-risk-adjusted rank.
• Google GOOG, GOOGL stock still holds the number-one position in risk-adjusted rank.
• Smart money flows are mildly negative in Netflix NFLX stock and Nvidia NVDA stock.
• Smart money flows are neutral in Tesla TSLA stock and Microsoft MSFT stock.
• Momo crowd money flows are negative in Intel INTC stock, but smart money flows are mildly positive….Read more at MarketWatch.
A knowledgeable investor would have turned $100,000 into over $1,000,000 with the help from The Arora Report. NOW YOU TOO CAN ALSO SPECTACULARLY SUCCEED AT MEETING YOUR GOALS WITH THE HELP OF THE ARORA REPORT. You are receiving less than 2% of the content from our paid services. …TO RECEIVE REMAINING 98% INCLUDING MANY ATTRACTIVE INVESTMENT OPPORTUNITIES, TAKE A FREE TRIAL TO PAID SERVICES.
Please click here to take advantage of a FREE  30 day trial.
Check out our enviable performance in both bull and bear markets.
FREE: SUBSCRIBE TO 'GENERATE WEALTH' NEWSLETTER