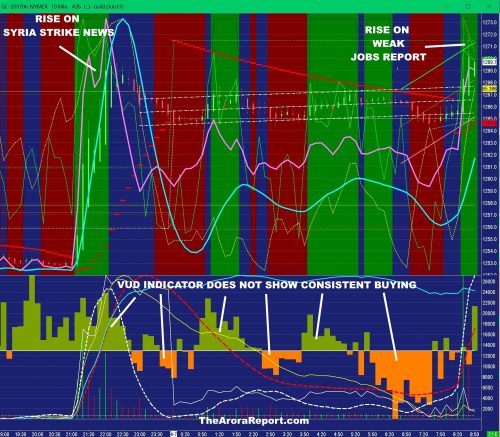 After the U. S. struck Syria with missiles, the momo crowd has been buying gold and silver aggressively.  I will give you my long-term prediction, but first you need to be aware of the foolishness of the momo (momentum) crowd.
Foolishness Of The Momo Crowd
To understand the foolishness of the momo crowd, take a look at the chart of gold futures after the news broke.
Please click here for the very short-term annotated chart of gold futures.
Gold futures spiked over $1271, only to fall back to about $1253.
Please note from the chart that VUD indicator does not show consistent buying. VUD indicator is the best indicator I know of measuring real buying and real selling in real time. Technical pattern of note is that gold crossed to the upside 200 day moving average.  This was bullish.  Now gold has crossed 200 day moving average again to the downside. Before putting too much faith in technical patterns, please see Mom and Pop Gold Traders' Lunch Eaten By Professionals, How Not To Become a Victim. ETFs of interest are gold ETF (GLD), silver ETF (SLV), gold miner ETF (GDX), and junior gold miner ETF (GDXJ).
The momo crowd was buying at $1270 and is now selling at $1253.
Buying at $1270 was foolish because the Syria strike is likely not to be followed with more strikes in the near future.
Very Long-Term
For the very long-term, more turmoil in the Middle East is positive for gold…Read more at Kitco
You are receiving less than 2% of the content from our paid services …TO RECEIVE REMAINING 98%, TAKE A FREE TRIAL TO PAID SERVICES.
Please click here to take advantage of a FREE  30 day trial.
Check out our enviable performance in both bull and bear markets.
FREE: SUBSCRIBE TO 'GENERATE WEALTH' NEWSLETTER