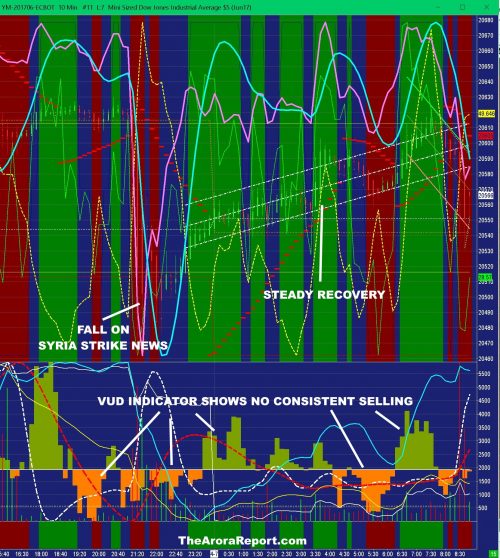 The U.S. on Thursday launched missile strikes against Syria in retaliation for chemical attacks on the Middle Eastern country's own citizens.
There are sure to be geopolitical ramifications.
For investors, here's what's happening to various asset classes as well as my predictions. The predictions are derived from the adaptive ZYX Allocation Algorithm that automatically changes with market conditions and has 10 macro, fundamental, quantitative and technical inputs.
• Stocks: None in the long term. Dow Jones Industrial Average futures fell over 100 points on the news, but the Dow DJIA, was little changed at the start of trading in New York.
Please click here for the annotated DJIA futures chart. The VUD indicator — a measure of buying demand in real time — shows no consistent selling. Exchange traded funds of interest are the S&P 500 ETF SPY, Dow Jones Industrial Average ETF DIA,  Nasdaq 100 ETF QQQ, and the iShares Russell 2000 ETF IWM.
• Gold: very mild positive in the long term. Gold futures spiked to over $1,271 an ounce, only to fall back to about $1,264.
Please click here for the annotated chart of gold futures. Please note that the VUD indicator does not show consistent buying. A technical pattern of note is that gold crossed to the upside on the 200-day moving average. That is bullish. Before putting too much faith in technical patterns, please see "Ask Arora: How the average investor can keep from getting burned by professionals." ETFs of interest are the gold ETF GLD,  silver ETF SLV,  gold miner ETF GDX,  and junior gold miner ETF GDXJ…Read more at MarketWatch
You are receiving less than 2% of the content from our paid services …TO RECEIVE REMAINING 98%, TAKE A FREE TRIAL TO PAID SERVICES.
Please click here to take advantage of a FREE  30 day trial.
Check out our enviable performance in both bull and bear markets.
FREE: SUBSCRIBE TO 'GENERATE WEALTH' NEWSLETTER