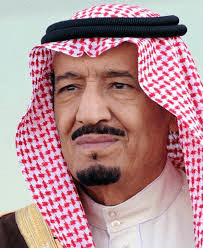 President Trump deserves credit for the stock market rally, as he has unleased "animal spirits."
No wonder it's being called the Trump rally. But that was yesterday. The more important question now is who holds the most power over this rally in the weeks and months ahead?
The answer may surprise you. It is Salman, the king of Saudi Arabia. He is the absolute monarch. And Saudi Arabia is the biggest member of OPEC.
How does King Salman hold so much power over the stock market in the good old USA? There is, at times, a strong correlation between oil prices and stock prices. I have explained that in detail in my previous column, "Lower oil prices have the potential to take down the stock market."
Ask Nigam: Nigam Arora answers your questions about investing in stocks, ETFs, bonds, gold and silver, and oil and currencies. Have a question? Send it to Nigam.
To stay in power, King Salman provides lavish benefits to some of his people. Those are financed by oil exports. But rising U.S. production is bringing down oil prices. To generate the revenues that Saudi Arabia needs, the country may need to increase production. Today Saudi Arabia issued a report that its oil production topped 10 million barrels a day. Analysts were expecting a decline. The result is lower oil prices on the open market and downward pressure on stock prices…Read more at MarketWatch
You are receiving less than 2% of the content from our paid services …TO RECEIVE REMAINING 98%, TAKE A FREE TRIAL TO PAID SERVICES.
FREE: SUBSCRIBE TO 'GENERATE WEALTH' NEWSLETTER