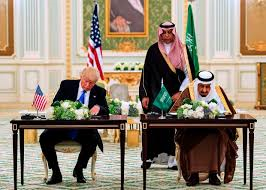 Media headlines are saying President Trump inked several hundred billion dollars of deals and investments with Saudi Arabia. Investors reading the reports are naturally asking which companies will benefit and, more importantly, what the investment potential is.
In this column, I will address six energy companies to watch, as others have covered defense/aerospace companies.
Six screens
I follow the ZYX Change Method of investing and trading. The method consists of six screens. The premise behind the ZYX Change Method of investing is that the most money is made with the lowest risk by successfully predicting the change before the crowd. American companies have always done well in Saudi Arabia. Now they are likely to do much better than they did during Obama's years. This is a change and may lead to profitable opportunities for investors.
Weatherford
Weatherford WFT executed a memorandum of understanding for $2 billion for localizing oil-field services and goods to Saudi Arabia. Localization is very important to the Saudi Arabian government. It would not be a surprise to see this deal expand.
Weatherford is a high-risk, high-reward situation for aggressive investors. If oil moves up to the $65-$70 range, Weatherford's stock has the potential to triple over the next three years.
This stock is in The Arora Report portfolio. We provide specific buy zones, stop zones and target zones to our subscribers…Read more at MarketWatch
You are receiving less than 2% of the content from our paid services …TO RECEIVE REMAINING 98%, TAKE A FREE TRIAL TO PAID SERVICES.
Please click here to take advantage of a FREE  30 day trial.
Check out our enviable performance in both bull and bear markets.
FREE: SUBSCRIBE TO 'GENERATE WEALTH' NEWSLETTER