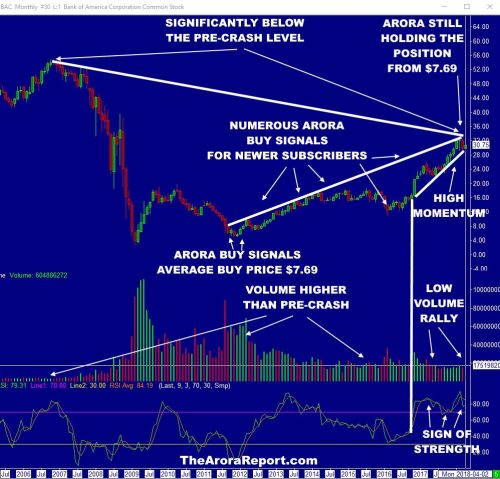 Stock market volatility presents opportunities to buy stocks or ETFs on a dip in prices.
Many investors have been focused on buying popular technology stocks such as Amazon AMZN, Facebook FB,  and Netflix NFLX.  In our analysis at The Arora Report, banks are likely one of the leaders in the next up leg and present lower risk than technology stocks.
There are six good reasons for investors to consider buying bank stocks now. Let's explore that idea, starting with a chart.
Chart
Please click here for an annotated chart of Bank of America BAC,  stock. Similar observations can be drawn from the charts of J.P. Morgan JPM,  Citigroup C,  and Wells Fargo WFC.
Please observe the following from the chart:
• During the recent stock market volatility, the relative strength index (RSI) on the chart shows that the stock never got oversold. This is a mark of strength.
• The foregoing came after a big rally in which the stock almost doubled. This is very positive.
• The Arora Report is holding shares of Bank of America from an average price of $7.69, as shown on the chart, and is still holding the position. The stock has quadrupled. The Arora Report has given numerous buy signals for newer subscribers along the way.
• The stock market has moved significantly above 2008 pre-crash levels. Those looking for bargains, take note that Bank of America is still way below the pre-crash level.
• Volume in the stock has stayed above pre-crash levels. This indicates higher investor interest.
• The last up leg was on low volume. This indicates a fair probability of a pullback.
• On the positive side, the low volume during the rally indicates that the stock is not over-owned and should be bought on a pullback. The Arora Report provides to subscribers precise buy zones to buy several bank stocks.
Overall, the technical picture presents a good reason to buy bank stocks in the buy zones….Read more at MarketWatch.
A knowledgeable investor would have turned $100,000 into over $1,000,000 with the help from The Arora Report. NOW YOU TOO CAN ALSO SPECTACULARLY SUCCEED AT MEETING YOUR GOALS WITH THE HELP OF THE ARORA REPORT. You are receiving less than 2% of the content from our paid services. …TO RECEIVE REMAINING 98% INCLUDING MANY ATTRACTIVE INVESTMENT OPPORTUNITIES, TAKE A FREE TRIAL TO PAID SERVICES.
Please click here to take advantage of a FREE  30 day trial.
Check out our enviable performance in both bull and bear markets.
FREE: SUBSCRIBE TO 'GENERATE WEALTH' NEWSLETTER