Skyworks  (SWKS) a provider of semiconductors for cell phones may face severe headwinds going forward.  
A recent report shows that Media Tek  (MTK), a fabless semiconductor company based in Taiwan is experiencing weakness in China.   It appears that the trend in China is in favor of Apple (AAPL)  iPhone but the demand for cheaper smart phones is slowing.  
Skyworks claims to derive 64% of revenues from China however it is believed that only about 25% of revenues are from China's local market.
Now there are indications that Skyworks  may also lose some of Apple iPhone 5 business.   It appears that its competitors, RF Micro Devices (RFMD), TriQuent  (TQNT), and Avago  Technologies (AVGO) are being more price competitive and also producing more technically advanced products.  
As a caution readers must understand that Apple is a highly secretive company and it enforces strict confidentiality agreements with its vendors.   As such, any writing regarding Apple and its component suppliers must be considered   speculative.  
As a full disclosure, we made a call to short sell Skyworks  on October 15th as shown on the chart.   Since then Skyworks  has lost about one-third of its value.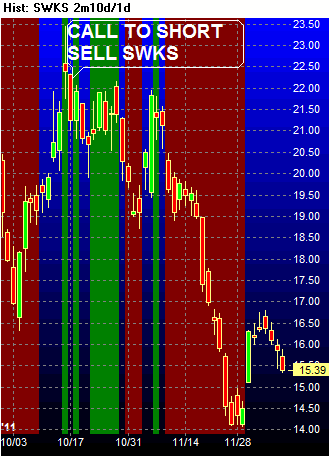 FREE: SUBSCRIBE TO 'GENERATE WEALTH' NEWSLETTER