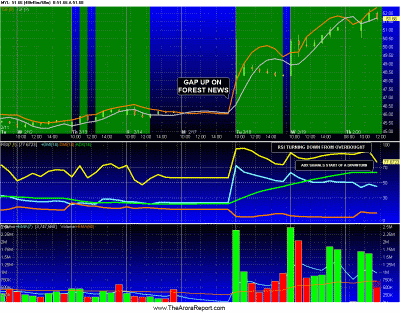 Since the Feb. 18 announcement that Actavis would acquire Forest Laboratories for about $25 billion, which caused Forest Laboratories stock to leap higher, Mylan stock has been moving up strongly in sympathy on speculation it, too, could be bought. However, the Smart Money has been selling Mylan into the strength, and with good reason. The annotated chart shows the strong rise after the Forest news and short-term technical picture.
Please click here to see chart of Mylan
The problem in this case is that such speculation is without any basis in fact and is ill informed. Let us start out by examining the difference between Forest FRX  and Mylan. Forest is a maker of branded drugs, some of which are highly differentiated, enabling the company to develop a considerable franchise. In contrast, Mylan is primarily a generic-drug manufacturer. It does make some branded drugs, but for the most part such drugs are not highly differentiated.
In Forest, there was considerable intellectual property value. By definition, generic-drug manufacturers do not have the same level of intellectual property as branded drugs.
Forest was deeply undervalued when Carl Icahn took a position in the company. Obviously, he is an activist investor, and the CEO of Forest was exploring a sale on Icahn's behest. There is no such activism in Mylan.
High expectations are already built into Mylan stock as is evidenced by a 52-week low of $27.66, and the stock is trading at $52.27 as of this writing…Read more at MarketWatch 
FREE: SUBSCRIBE TO 'GENERATE WEALTH' NEWSLETTER