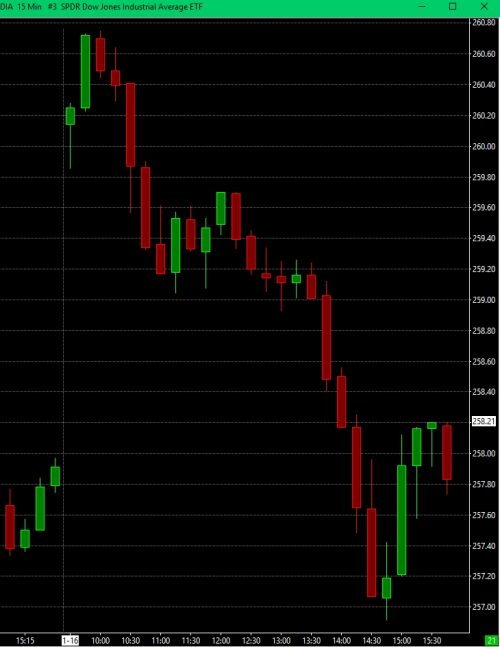 This post was previously published on ZYX Buy Change Alert.
Spot On Signal In Advance Of Ugly Sell Off
Yesterday stocks traced an ugly reversal pattern with heavy selling.  The last time such a pattern was seen was in August of 2017.  Normally such a pattern is negative for the stock market in traditional technical analysis.  In extended markets, such a pattern is often also the top.
Yesterday's Morning Capsule gave you a spot on signal ahead of the sell off. In the Morning Capsule we wrote:
The momo crowd is aggressively buying stocks in the early trade pushing Dow futures to over 26000.   The thinking is that mom and pop were sending money to mutual funds this weekend like the previous weekend.  Traders are simply trying to get ahead of the mutual fund buying.

Beware That Dollar Has Reversed

Another leg up in the rally was caused by weaker dollar.  U. S. multi national earnings go up when the dollar is weak.

Beware that the dollar has reversed over the last hour or so after persistent weakness last week and over the weekend.

It is likely that the 'smart money' will sell into the strength if the dollar strength continues.
Our very, very short term stock market indicator was also spot on.  We wrote ahead of the sell off:
Our very, very short-term early stock market indicator is negative relative to Dow futures over 26000 but is positive relative to close of the market last week. In other words, the indicator is saying that early strength may not last.
The Reversal Pattern
Please  click here  to see the reversal pattern.  First DJIA was up over 280 points and then it fell over 350 points before recovering.
Momo Is Back
The momo crowd is back buying stocks aggressively again in the early trade.  The 'smart money' is inactive.  Just like yesterday, after being weak earlier, dollar is beginning to strengthen on verbal intervention by European Central Bank (ECB).
Tell On Gold
The momo crowd is aggressively buying gold and silver but since yesterday morning sell off,  rally attempts have been failing.  If rally attempts continue to fail, this will be a bearish tell.  Please see a separate post titled, SIGNAL QUALITATIVE: CURRENT GOLD AND SILVER RATINGS, AND ALLOCATION, REVIEWED DAILY AFTER THE ORIGINAL PUBLICATION.  This is a sticky post on the home page.
Tell On Bitcoin
Bitcoin futures have fallen below $10,000 as of this writing.  Expect a very, very short-term rally.  If the rally is sustained or fails, either will be a tell because  $10,000 is a critical level both based on traditional technical analysis and also from sentiment point of view.  Will those who bough it at $20,000 or anywhere in between panic and sell?
Industrial Production
Industrial Production came at 0.9% vs. 0.4% consensus.
Capacity Utilization came at 77.9% vs. 77.3% consensus.
These numbers indicate that manufacturing continues to do well in the United States.  This is positive for industrial stocks.  However industrial stocks are very over bought.  As a full disclosure, subscribers to ZYX Global Allocation have been sitting on very large unrealized gains on SPHB which has a heavy weighting of industrial stocks.  Yesterday partial profits were taken.
Oil And Natural Gas
Short squeeze in oil continues to abate leading to selling pressure.
There is a new leg of short squeeze in natural gas.
Technical Patterns
Mexican stocks are tracing a Diamond Bottom. This is bullish.  ETF of interest is EWW.
This is powerful information and many investors use this to enter trades in addition to our official signals.  Here are the three most common uses: 1) Short-term trades in ETFs  2) Decisions to trim or add to long-term positions, and 3) New option trades. These should be used judiciously only in conjunction with macro, fundamental and quantitative indicators.  To learn more please click here.
Markets
Our very, very short-term early stock market indicator is neutral but expect stocks to start the day much higher.  Expect the momo crowd to take another shot at DJIA 26,000.
Bonds are ticking down and interest rates are ticking up.
Gold futures are at $1336, silver futures are at $17.19, and oil futures are $63.66.
S&P 500 resistance level is 2800; support levels are 2765, 2740, and 2700.
DJIA futures are up 125 points.
What To Do Now?
It is important for investors to look ahead and not in the rear view mirror.
Consider continuing to hold existing positions. Based on individual risk preference, consider holding cash or treasury bills 19% – 29% and short to medium-term hedges of  15% – 25% and very short term hedges of 15%. This is a good way to protect yourself and participate in the upside at the same time.
It is worth reminding that you cannot take advantage of new upcoming opportunities if you are not holding enough cash.  When adjusting hedge levels, consider adjusting partial stop quantities for stock positions (non ETF); consider using wider stops on remaining quantities and also allowing more room for high beta stocks.  High beta stocks are the ones that move more than the market.
A knowledgeable investor would have turned $100,000 into over $1,000,000 with the help from The Arora Report. NOW YOU TOO CAN ALSO SPECTACULARLY SUCCEED AT MEETING YOUR GOALS WITH THE HELP OF THE ARORA REPORT. You are receiving less than 2% of the content from our paid services. …TO RECEIVE REMAINING 98% INCLUDING MANY ATTRACTIVE INVESTMENT OPPORTUNITIES, TAKE A FREE TRIAL TO PAID SERVICES.
Please click here to take advantage of a FREE  30 day trial.
Check out our enviable performance in both bull and bear markets.
FREE: SUBSCRIBE TO 'GENERATE WEALTH' NEWSLETTER