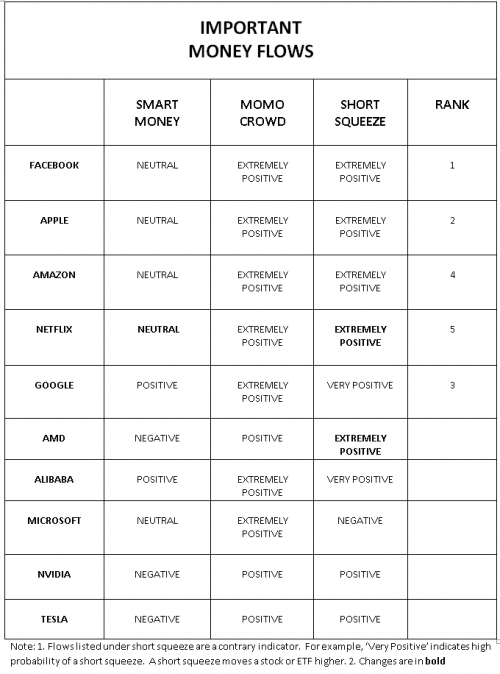 Apple is the first big tech company to hand President Trump a win.
Apple AAPL, in a press release Wednesday, said it will pay $38 billion in repatriation taxes, spend $30 billion in capital expenditures over the next five years and help create 20,000 new jobs inside and outside the company.
Trump sent out a tweet praising the Cupertino, Calif.-based maker of the iPhone.
Apple is borrowing a page from Amazon's AMZN,  playbook and plans to build a new campus. Could other tech companies be far behind? Such news may move those companies' stocks.But how much of the upcoming news is already discounted? What does it all mean for investors? To find out, investors can gain an edge by looking at money flows. Let us explore with the help of a chart.
Chart
Please click here for a chart showing money flows in popular tech stocks. In addition to Apple and Amazon, the chart shows money flows in FAANG and other popular tech stocks.
Please observe the following from the chart:
• The momo (momentum) crowd is aggressively buying tech stocks.
• Short squeezes are adding to the buying. In a short squeeze, short-sellers (who bet on declines) buy stocks to cover to cut their losses. That adds fuel to the fire.
• The "smart money" of professional investors is not overly enthusiastic.
Interpretation of the smart money's moves
The momo crowd typically buys because the price is going up. It is not known for its strength in analysis….Read more at MarketWatch
A knowledgeable investor would have turned $100,000 into over $1,000,000 with the help from The Arora Report. NOW YOU TOO CAN ALSO SPECTACULARLY SUCCEED AT MEETING YOUR GOALS WITH THE HELP OF THE ARORA REPORT. You are receiving less than 2% of the content from our paid services. …TO RECEIVE REMAINING 98% INCLUDING MANY ATTRACTIVE INVESTMENT OPPORTUNITIES, TAKE A FREE TRIAL TO PAID SERVICES.
Please click here to take advantage of a FREE  30 day trial.
Check out our enviable performance in both bull and bear markets.
FREE: SUBSCRIBE TO 'GENERATE WEALTH' NEWSLETTER