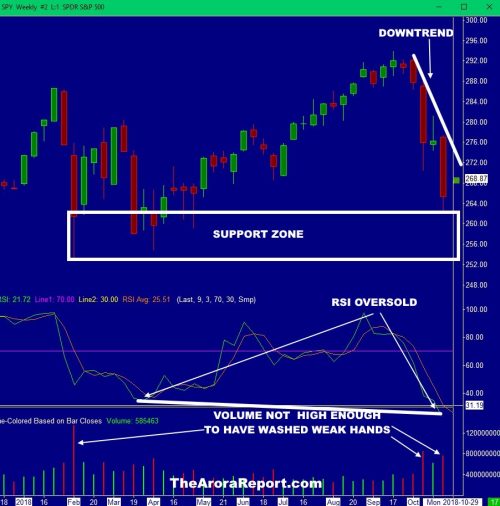 ACT NOW TO SAVE $2,005 — FOR INVESTORS SERIOUS ABOUT MAKING MILLIONS IN MARIJUANA
Companies buy other companies all the time, but a 63% premium on an acquisition doesn't happen every day.
IBM IBM unveiled its largest software acquisition ever by offering $190 a share for Red Hat RHT. I need to start with a full disclosure: The Arora Report gave a signal to buy Red Hat at $43.14 with a call that it was likely to be bought out, most probably by IBM. A 63% premium on a deal is striking. Of course, a 340% gain on our position is putting me in a buying sentiment.
The anecdotal evidence is that the positive sentiment is contagious on this large premium. This is especially important since high-beta stocks like Red Hat have been hit hard. The buying is spreading. However, sellers have not gone on vacation. I have been getting lots of requests to try to figure out where is the bottom in the stock market. Let's start with a chart.
Chart
Please click here for an annotated chart of S&P 500 ETF SPY. Somewhat similar conclusions can be drawn from the charts of the Dow Jones Industrial Average DJIA, Nasdaq 100 ETF QQQ and small-cap ETF IWM. Please note the following:
• The chart is a weekly chart to help the longer-term investor.
• The chart shows the downtrend line.
• The chart shows the support zone.
• Volume has not been high enough to have washed out weak hands. This is a negative.
• RSI (relative strength index) is very oversold.
• The chart shows RSI is more oversold than in the last correction. When the market is oversold, it often bounces.
Incomplete question
Where is the bottom in the stock market? That is an incomplete question; the bottom for a day, a week, a month or forever? It is important for investors to always look at a bottom along with a time frame.
If the weak hands were washed out, the probability of this being the bottom for at least a few months would have been very high. Now, any bounce is suspect, but several positive factors are coming into play that call for a fair probability of a very short-term bottom. Investors are well-advised to remember Arora's Second Law of Investing: "No one knows with certainty what will happen next." The best, and the only realistic, thing investors can do is to think in terms of probabilities.
• The market is about to enter a seasonally strong period….Read more at MarketWatch.
A knowledgeable investor would have turned $100,000 into over $1,000,000 with the help from The Arora Report. NOW YOU TOO CAN ALSO SPECTACULARLY SUCCEED AT MEETING YOUR GOALS WITH THE HELP OF THE ARORA REPORT. You are receiving less than 2% of the content from our paid services. …TO RECEIVE REMAINING 98% INCLUDING MANY ATTRACTIVE INVESTMENT OPPORTUNITIES, TAKE A FREE TRIAL TO PAID SERVICES.
Please click here to take advantage of a FREE  30 day trial.
Check out our enviable performance in both bull and bear markets.
FREE: SUBSCRIBE TO 'GENERATE WEALTH' NEWSLETTER