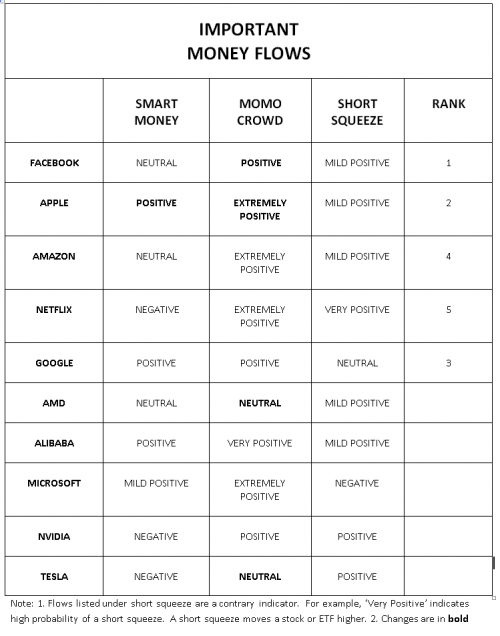 Apple's new iPhone X is a home run, but everybody already knows that. So that doesn't provide investors an edge.
Savvy investors are always looking for an edge to outperform the broader market. You can gain an edge in information that is not well-known or well-understood. In this article, I am going to discuss two edges in Apple AAPL  stock. One edge could be gleaned from the company's earnings report. The second comes from money flows.
Let's start by exploring a chart of money flows and then move on to the biggest new thing.
Chart
Please click here for a chart of money flows. At The Arora Report we gain an edge by breaking down money flows into three categories: smart money, the momo (momentum) crowd and short squeeze. Money flows have helped The Arora Report continue to hold a core position in Apple stock originally bought at $18.73. We have doubled the returns for our subscribers by trading around the core position with almost perfectly timed entries and exits over the years. This record is publicly well-documented over the years.
Smart money flows in Apple have turned positive. The momo crowd flows are extremely positive. The short squeeze flows are mildly positive. The sum total is that there is more upside ahead for Apple. The chart also shows money flows for other FAANG stocks Facebook FB, Amazon AMZN,  Netflix NFLX, and Google GOOG,  GOOGL.  In addition, the chart includes money flows for popular technology stocks AMD AMD,  Alibaba BABA,  Microsoft MSFT,  Nvidia NVDA,  and Tesla TSLA.
For those holding FAANG stocks or those in the process of deciding which FAANG stock to buy, the chart also ranks them based on the ZYX Change Method…Read more at MarketWatch
You are receiving less than 2% of the content from our paid services …TO RECEIVE REMAINING 98%, TAKE A FREE TRIAL TO PAID SERVICES.
Please click here to take advantage of a FREE  30 day trial.
Check out our enviable performance in both bull and bear markets.
FREE: SUBSCRIBE TO 'GENERATE WEALTH' NEWSLETTER