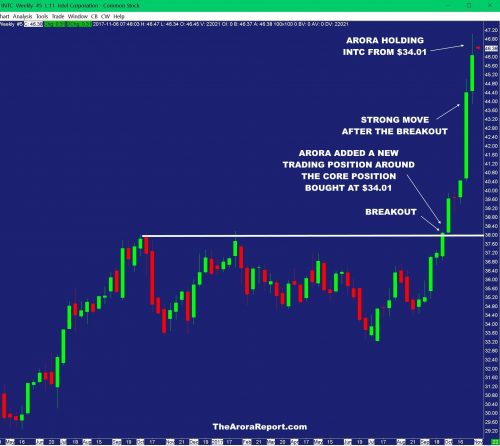 Today there's a report that Intel and AMD are joining forces to fight Nvidia.
I have been flooded with questions from investors as to what the news means for shares of Intel INTC,  AMD AMD,  and Nvidia NVDA.  I will answer the question based on fundamentals. But first let's look at the charts.
The charts
Please click here for an annotated chart of Intel stock. For the sake of transparency, this is exactly the same chart, without updates, that was published when the call was made in early October.
Please click here for a chart of Intel post-breakout. The chart shows that there has been a powerful move up since the breakout. At The Arora Report, we bought Intel at $34.01 in anticipation of the breakout. In addition, at the time of the breakout, we bought a so-called trade-around position to surround the core quantity bought earlier. A valuable technique for investors is to buy a core quantity to hold for the long term and then surround it with shorter-term trades at opportunistic moments; this is called a trade-around position. In some situations, using this technique, investors can double their returns while taking lower risks.
It is worth noting that Intel is a part of Dow Jones Industrial Average DJIA.
Please click here for a chart of AMD. Note that in contrast to Intel, AMD has been trading in a wide range without a breakout. At The Arora Report, we do scenario analysis in advance. Our most probable scenario for AMD at the beginning of the year was that the stock would likely trade in a wide range….Read more at MarketWatch
You are receiving less than 2% of the content from our paid services …TO RECEIVE REMAINING 98%, TAKE A FREE TRIAL TO PAID SERVICES.
Please click here to take advantage of a FREE  30 day trial.
Check out our enviable performance in both bull and bear markets.
FREE: SUBSCRIBE TO 'GENERATE WEALTH' NEWSLETTER