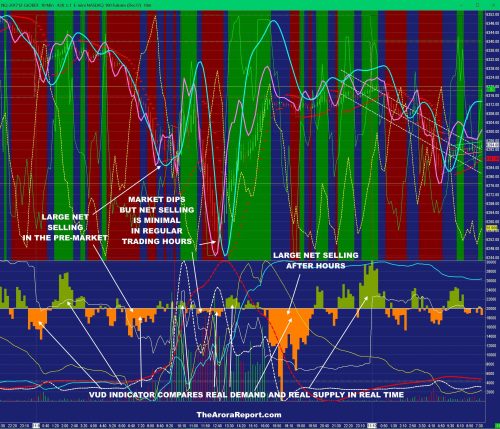 The smart money is getting jittery, which warrants protective measures.
The stock market is complex, but there is one aspect that is simple and provides real objective insights to investors.
The simplicity lies in comparing real buying demand to real selling supply in real time. When supply is significantly greater than demand, it is an indication of the market ready to go down, and vice versa. Let's us explore with a chart.
Chart
Please click here for an annotated chart of the Nasdaq 100 futures NQZ7, -0.26% which represents Nasdaq 100 Index NDX.  Somewhat similar conclusions can be reached from charts of popular, broad-based ETFs such as the S&P 500 ETF SPY, Nasdaq 100 ETF QQQ,  small-cap ETF IWM,  and DJIA ETF DIA,  which represents the Dow Jones Industrial Average DJIA.
The advantage of using futures is that they provide significant data for pre-market and after-market. Also, Nasdaq 100 futures are used by speculators as a proxy for a group of popular tech stocks such as Nvidia NVDA,  Apple AAPL,  Google GOOG,  GOOGL,  Amazon AMZN,  Netflix NFLX,  Facebook FB,  and Tesla TSLA.
The most notable feature of the chart is the VUD indicator. The VUD indicator compares real demand and real supply in real time. Please note the following from the chart.
• There was significant real net selling in the pre-market. The reason for this is described later in this article.
• During regular trading hours, when the market dipped on concerns about the Senate tax bill, net selling was minimal.
• During regular trading hours, there was neither excessive real buying nor excessive real selling.
• After the market close, there was again net real selling.
You are receiving less than 2% of the content from our paid services …TO RECEIVE REMAINING 98%, TAKE A FREE TRIAL TO PAID SERVICES.
Please click here to take advantage of a FREE  30 day trial.
Check out our enviable performance in both bull and bear markets.
FREE: SUBSCRIBE TO 'GENERATE WEALTH' NEWSLETTER