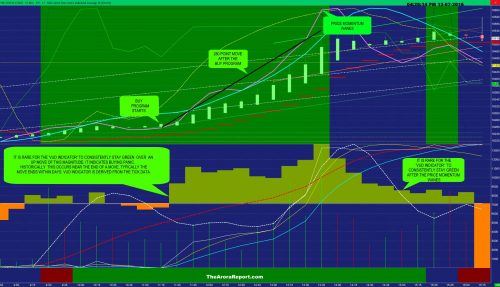 Only three days ago I predicted that a performance chase is on. Wednesday's nearly 300-point move in the Dow Jones Industrial Average shows the prediction was spot on. A performance chase buy program triggered the rally and performance chase turned the rally into a buying panic. This was yesterday; now let us look ahead.
It pays to pay attention to rare chart occurrences. The Arora Report "VUD indicator" shows two rare occurrences indicating a buying panic that historically occurs near the end of a move. Typically the move ends within days.
Click here for the annotated chart.
The chart is a 15-minute chart of DJIA futures. I am using this because it's easier to illustrate the point. Similar but less strong patterns can be seen in S&P 500 ETF SPY, Nasdaq 100 ETF QQQ,  and small-cap ETF IWM.
The VUD indicator is derived from the tick data. The chart shows it turning green when a buy program kicked in. DJIA futures made a 280-point move after the buy program. Throughout that move, the VUD indicator stayed green. This rarely occurs. Plus 28 of the 30 DJIA stocks stayed positive. Only Pfizer PFE,  and United Health UNH,  were negative.
Typically after the price momentum wanes, the VUD indicator turns orange. As the chart shows, this time the VUD indicator consistently stayed green even after the price momentum waned. It finally turned orange a few minutes after the regular market closed…Read more at MarketWatch
You are receiving less than 2% of the content from our paid services …TO RECEIVE REMAINING 98%, TAKE A FREE TRIAL TO PAID SERVICES.
Please click here to take advantage of a FREE  30 day trial.
Check out our enviable performance in both bull and bear markets.
FREE: SUBSCRIBE TO 'GENERATE WEALTH' NEWSLETTER