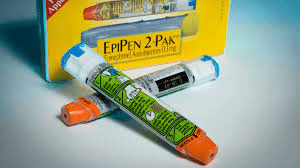 This post was just published on ZYX Buy Change Alert.
TEVA
MYL is a generic drug manufacturer.  The earlier decline in the stock was in sympathy with TEVA.  TEVA is the largest generic drug manufacturer in the world.  TEVA's head of generics unexpectedly departed.  The market extrapolated that one reason for his departure could have been the weakness in TEVA's generic business.  It is a stretch to assume from TEVA news that MYL business is also under pressure.  Initially the market has been running with this stretch.  However this afternoon cooler heads seem to be prevailing and MYL stock is recovering.
Tax Loss Selling
52 week high of MYL is $55.51.  But the high last year was $76.70.  The stock is trading at $35.85 as of this writing. The stock is experiencing a considerable amount of tax loss selling that should abate as the month progresses.
Trump
Wall Street and Trump are in the honeymoon period.  Investors are excited and buying risky stocks with both hands.  Of course, the money to buy the risky stocks has to come from somewhere.  Investors are selling safe stocks such as MYL to raise the money to buy risky stocks.
The Plan
In a normal year, a stock such as MYL would be expected to bounce up strongly in January after the tax loss selling pressure is lifted.  However this year the situation is complicated because the Trump honeymoon has a high probability of continuing into early next year.  Therefore, we would refrain from a call to add to the stock right here.
What To Do Now
Large well diversified accounts may consider changing the stop to a mental stop and scale in additional quantities on any big dips.
Small accounts may consider holding into 2017 but not add here.
Target
This is a long term position.  There is no change in our target zone of $48 to $49.  After the Trump honeymoon ends, there is high probability that the target will be raised.
You are receiving less than 2% of the content from our paid services …TO RECEIVE REMAINING 98%, TAKE A FREE TRIAL TO PAID SERVICES.
Please click here to take advantage of a FREE  30 day trial.
Check out our enviable performance in both bull and bear markets.
FREE: SUBSCRIBE TO 'GENERATE WEALTH' NEWSLETTER