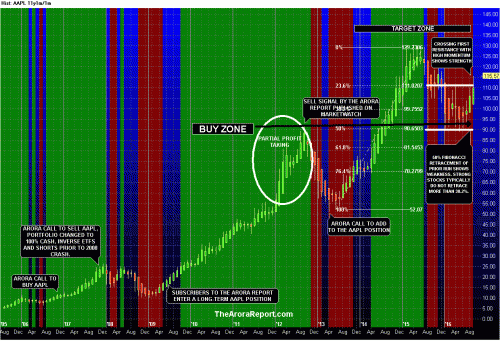 In my over 30 years in the markets, I have repeatedly seen traders getting into an aggressive buy mode without asking questions or understand the news. This is happening in Apple AAPL, right now. The chart linked below shows a pattern that has occurred for the first time since 2009.
Let us start with making a distinction between an investment and a trade. As an investment, I am bullish on Apple. The Arora Report is still holding part of the position bought at 18.71. Our target as shown on the long-term chart is 137.00 to 140.00. The rationale behind the target is that Apple stock will run ahead of iPhone 8's introduction which is scheduled to be a very major upgrade.
Please click here to see annotated long-term chart.
Please click here to see annotated short-term chart.
Very short-term traders are getting suckered into Apple based on a mirage created by not fully understanding the news. At best, the foundation under the recent explosive move in Apple is shaky.
Sprint and T-Mobile
The explosive up move started when both Sprint S,  and T-Mobile TMUS  indicated that orders were exceptionally strong for iPhone 7.
The exceptionally strong orders at the two smaller carriers do not equate to ultimately strong iPhone 7 sales. The reason is that both of these carriers have been offering special benefits and for those wanting to switch from the two major carriers the time to switch is when buying a new phone…Read more at MarketWatch
You are receiving less than 2% of the content from our paid services …TO RECEIVE REMAINING 98%, TAKE A FREE TRIAL TO PAID SERVICES.
Please click here to take advantage of a FREE  30 day trial.
Check out our enviable performance in both bull and bear markets.
FREE: SUBSCRIBE TO 'GENERATE WEALTH' NEWSLETTER