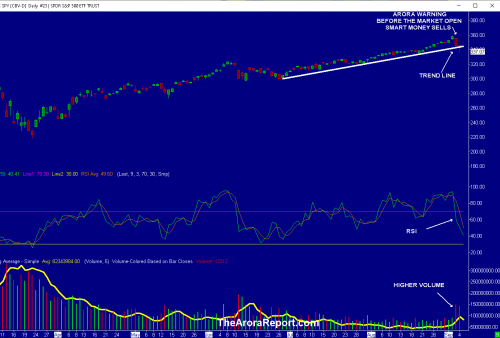 To gain an edge, this is what you need to know today.
Trendline Broken
Please click here for a chart of S&P 500 ETF (SPY).
Note the following:
We had previously shared this chart with you before the trendline was broken.  The objective was to wait for the trendline to break for confirmation.
The trendline is now broken.
The volume is higher on down days.
Consider raising cash and hedges. Please see 'Protection Bands and What To Do Now?' section below.
Option Gambit
Reports have surfaced that Masayoshi Son of SoftBank (SFTBY) of Japan may have orchestrated a one-way aggressive bullish bet using options on $50 billion worth of momo stocks.  It is not clear if SFTBY has already booked profits or they have more selling to do.
SFTBY seemed to have followed the classic momo strategy.
If SFTBY is done with selling, expect the market to bounce.  On the other hand if they have more selling to do they could push the market lower.
Vaccine Tease
Yesterday Trump teased that good data on a vaccine could be announced as early as October.  If true this is obviously a positive.
China Decoupling
Yesterday Trump talked about more China decoupling.  This is negative for the stock market.
Momo Crowd And Smart Money In Stocks
Yesterday evening, futures opened much higher with the momo crowd aggressively buying.  The reason the momo crowd was aggressively buying was Trump's tease about a vaccine.  Smart money sold into the strength. The dance continued until about 2:30 am with momo buying and smart money selling.  After that, momo buying could not overcome smart money selling and futures fell out of bed.
The momo crowd is. 🔒 Smart money is 🔒 To read take a free 30 day trial subscription.
Gold
🔒     To read take a free 30 day trial subscription.
Oil
🔒
Markets
🔒
Protection Bands and What To Do Now?
🔒
A knowledgeable investor would have turned $100,000 into over $1,000,000 with the help from The Arora Report. NOW YOU TOO CAN ALSO SPECTACULARLY SUCCEED AT MEETING YOUR GOALS WITH THE HELP OF THE ARORA REPORT. You are receiving less than 2% of the content from our paid services. …TO RECEIVE REMAINING 98% INCLUDING MANY ATTRACTIVE INVESTMENT OPPORTUNITIES, TAKE A FREE TRIAL TO PAID SERVICES.
Please click here to take advantage of a FREE  30 day trial.
Check out our enviable performance in both bull and bear markets.
FREE: SUBSCRIBE TO 'GENERATE WEALTH' NEWSLETTER