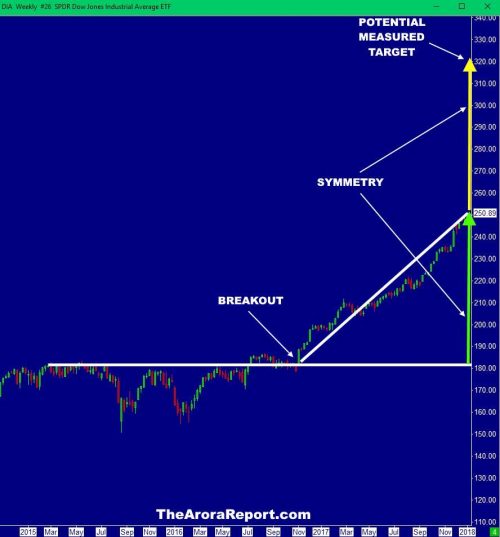 President Trump routinely makes authoritative statements about the stock market, as he takes credit for its rise. No other president in history has ever spoken so much about the U.S. stock market.
Now Trump has preordered "Dow 30,000," though not literally. Given his track record of making statements about the stock market and his tone in taking credit for Dow DJIA,  25,000, this is an appropriate characterization. His actual statement is: "I guess our new number is 30,000."
Trump is not the only one. Wall Street strategists are tripping over themselves to raise their targets for the stock market.
Gurus who were until recently calling for a crash and missed the whole bull market are now turning super-bullish in calling for Dow 30,000. Where were all of those gurus a year ago?
Well, about a year ago, when The Arora Report laid out a scenario for Dow 30,000, I got a fair bit of hate mail; those who do not like Trump could not stand me saying "Here's the case for Dow 30,000 in Trump's first term."
To be fair, the number of hateful emails was small compared to those I received when I gave a signal to sell gold (the trading ETF is GLD,) at $1,904 an ounce and simultaneously a signal to short-sell gold. At that time, everybody was bullish on gold. Subsequently gold fell to under $1,100.
I am used to taking unpopular positions, and that has served investors well in making lucrative gains over the years. But that was yesterday. The key question at this time is what to do now and how to jump on rising stocks safely?
Let us explore starting with a chart.
Chart
Please click here for the annotated chart of Dow Jones Industrial Average ETF DIA.  Similar conclusions can be drawn from the SPY;  ETF, which represents the S&P 500 SPX; the QQQ, ETF, which represents Nasdaq 100 NDX; and the IWM,  ETF, which represents the Russell 2000 RUT.  Please note the following from the chart…Read more at MarketWatch
A knowledgeable investor would have turned $100,000 into over $1,000,000 with the help from The Arora Report. NOW YOU TOO CAN ALSO SPECTACULARLY SUCCEED AT MEETING YOUR GOALS WITH THE HELP OF THE ARORA REPORT. You are receiving less than 2% of the content from our paid services. …TO RECEIVE REMAINING 98% INCLUDING MANY ATTRACTIVE INVESTMENT OPPORTUNITIES, TAKE A FREE TRIAL TO PAID SERVICES.
Please click here to take advantage of a FREE  30 day trial.
Check out our enviable performance in both bull and bear markets.
FREE: SUBSCRIBE TO 'GENERATE WEALTH' NEWSLETTER