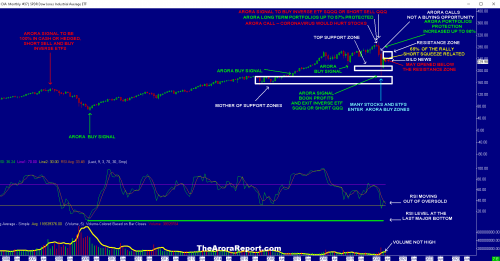 President Trump said Wednesday that "so-called 'rich guys'" may be "speaking negatively" about the stock market to profit from its decline.
Trump's tweet came after billionaire investor Stanley Druckenmiller said the risk-reward relationship in stocks has never been worse. Trump didn't identify Druckenmiller in his tweet, and there's no evidence that the professional investor recently short-sold equities.
Trump is only half right. Let's explore this issue with the help of a chart.
Chart
Please click here for an annotated chart of the Dow Jones Industrial Average ETF DIA.
Note the following:
• The chart shows that the stock market opened below the resistance zone in May, and that after repeatedly bumping against it, it failed to make a deeper penetration.
• The chart shows that 65% of the rally resulted from short-squeezes. I had said this influence might exhaust itself in mid-April. It does not mean that a new short-squeeze cannot start at any time.
• The foregoing is a good setup for short-selling.
• But such a setup is not a secret exclusive to the wealthy.
• Some investors put a lot of faith in 13F filings with the Securities and Exchange Commission by the so-called rich guys — investment pros with a lot of money. The filings show their holdings at the end of each quarter.
• That faith is misplaced. First, the filings are delayed by six weeks. (First-quarter positions should be unveiled any day now.) Second, there are loopholes that enable the rich guys to obfuscate their true holdings….Read more at MarketWatch.
A knowledgeable investor would have turned $100,000 into over $1,000,000 with the help from The Arora Report. NOW YOU TOO CAN ALSO SPECTACULARLY SUCCEED AT MEETING YOUR GOALS WITH THE HELP OF THE ARORA REPORT. You are receiving less than 2% of the content from our paid services. …TO RECEIVE REMAINING 98% INCLUDING MANY ATTRACTIVE INVESTMENT OPPORTUNITIES, TAKE A FREE TRIAL TO PAID SERVICES.
Please click here to take advantage of a FREE  30 day trial.
Check out our enviable performance in both bull and bear markets.
FREE: SUBSCRIBE TO 'GENERATE WEALTH' NEWSLETTER