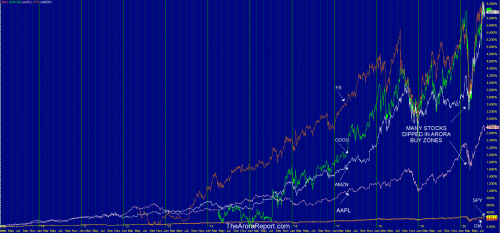 Stock market bulls are giddy.
What is there not to be happy about — the stock market mostly rises, and making money seems easy. While newly minted investors are focusing on running up small, speculative stocks, institutions are hiding in big-cap tech stocks.
For prudent investors, the time to understand two big hidden stock market risks is now — when the market is high. Let's explore with the help of a chart.
Chart
Please click here for a chart of the Dow Jones Industrial Average ETF DIA which tracks the Dow Jones Industrial Average DJIA.
Note the following:
• To give investors a long-term perspective, the chart goes back to the start of the bull market in 2009.
• The chart compares the Dow Jones Industrial Average to the S&P 500 SPX, Amazon  AMZN, Apple AAPL, Alphabet GOOG,  GOOGL and Facebook FB.
• As popular as Apple stock is among investors, the chart is an eye-opener in that Apple has significantly underperformed shares of Amazon, Alphabet and Facebook.
• Apple just reported blowout earnings in spite of the pandemic. The company also announced a four-for-one stock split. Apple's stock is flying high.
• Amazon was expected to report great earnings as it became a quintessential utility for consumers during the pandemic. Amazon outdid most estimates.
• In spite of a boycott by advertisers — and an advertising slump in general — Facebook's earnings were a blowout — just like Apple's.
• Alphabet earnings were excellent but not a blowout. However, by some measures, Alphabet is the cheapest of the four stocks.
• The chart shows that many stocks dipped into the Arora buy zones during the March stock market dip. Buy zones are very powerful for stock market investors. You buy when the stocks dip into the buy zones. It takes patience but it pays off handsomely. For example, Apple stock dipped into the Arora buy zone, trading as low as $212.61 not that long ago, and is now at around $410 as of this writing.
• The charts of Apple, Amazon, Alphabet and Facebook stocks are as bullish as they get. The companies' earnings are accelerating. If they can produce excellent earnings during a pandemic, imagine what they can do when the economy starts booming and there is a vaccine. Their market dominance is increasing and so is the range of their offerings….Read more at MarketWatch.
A knowledgeable investor would have turned $100,000 into over $1,000,000 with the help from The Arora Report. NOW YOU TOO CAN ALSO SPECTACULARLY SUCCEED AT MEETING YOUR GOALS WITH THE HELP OF THE ARORA REPORT. You are receiving less than 2% of the content from our paid services. …TO RECEIVE REMAINING 98% INCLUDING MANY ATTRACTIVE INVESTMENT OPPORTUNITIES, TAKE A FREE TRIAL TO PAID SERVICES.
Please click here to take advantage of a FREE  30 day trial.
Check out our enviable performance in both bull and bear markets.
FREE: SUBSCRIBE TO 'GENERATE WEALTH' NEWSLETTER