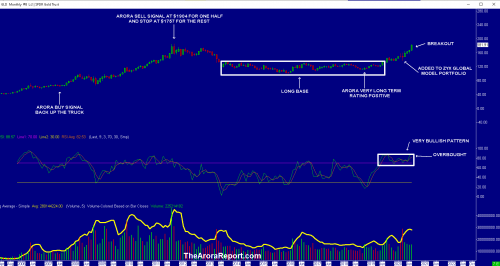 I have never been afraid to make bold predictions for the stock, commodities, bond and currency markets when supported by rigorous analysis.
Recently I made a prediction that gold is on its way to $3,000 an ounce unless there is a vaccine and money printing stops. In some ways, this is similar to my call for the Dow Jones Industrial Average DJIA reaching 30,000 points when it was trading around 16,000. (Please see "Here's the case for Dow 30,000 in Trump's first term.")
Let's examine gold with the help of a chart.
Please click here for an annotated chart of SPDR Gold Shares GLD, an exchange traded fund.
Note the following:
• This is a monthly chart, giving a long-term perspective.
• The chart shows that The Arora Report gave a signal to back up the truck and buy gold when it was in the $600 range.
• Long-term readers may remember that in 2011 The Arora Report gave a sell signal on gold when it was trading at $1,904 — exactly on the day when gold topped out before falling to about $1,000.
• The chart shows that gold has traced a long base. This is very bullish.
• The chart shows Arora's very long-term rating as positive.
• The chart shows that gold has broken out.
• The chart shows that gold was added to our model portfolio in March 2020 right before the present run-up started.
• The chart shows that RSI (relative strength index) has traced a very bullish long-term pattern.
• The chart shows that in the short-term gold is very overbought. When a commodity gets overbought, it is vulnerable to a pullback.
• If there is an effective vaccine, that may stop gold's march toward $3,000, and gold may even fall.
• Gold is a hedge against long stock portfolios, but it may not act as a hedge against the five popular mega-cap stocks of Apple AAPL, Amazon AMZN, Facebook FB, Microsoft MSFT and Alphabet GOOG,  GOOGL.
• Any pullbacks in gold in the near term should be used to add to the position.
• In the longer term, keep a close eye on vaccine development.
Gold vs stocks
Start with Arora's Second Law of Investing and Trading: "Nobody knows with certainty what is going to happen next in the markets." You may be wondering why a vast majority of gurus and Wall Street analysts claim to know with certainty what is going to happen next. Ask yourself this simple question, "Would you pay them if they admitted the truth?" Adopting the second law is the first step to get on a realistic path to do analysis based on scenarios and probabilities….Read more at MarketWatch.
A knowledgeable investor would have turned $100,000 into over $1,000,000 with the help from The Arora Report. NOW YOU TOO CAN ALSO SPECTACULARLY SUCCEED AT MEETING YOUR GOALS WITH THE HELP OF THE ARORA REPORT. You are receiving less than 2% of the content from our paid services. …TO RECEIVE REMAINING 98% INCLUDING MANY ATTRACTIVE INVESTMENT OPPORTUNITIES, TAKE A FREE TRIAL TO PAID SERVICES.
Please click here to take advantage of a FREE  30 day trial.
Check out our enviable performance in both bull and bear markets.
FREE: SUBSCRIBE TO 'GENERATE WEALTH' NEWSLETTER