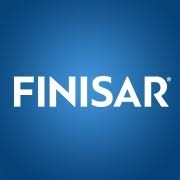 This post was just published on ZYX Buy Change Alert.
Finisar (FNSR) stock is moving up today.  The reason for the up move is a buyout in the optical space.  LITE is buying OCLR.
We have previously expressed concern about FNSR's legacy business.  Consolidation in the space should marginally help the legacy business.  Of course the main reason to continue to hold is FNSR's relationship with  AAPL for providing face recognition components for iPhones.  If face recognition becomes popular, this will be a plus for FNSR.
On Friday FNSR stock fell over $2 on reports that earnings were less than the consensus and the whisper numbers.  This was not a surprise to us as we were expecting lower numbers.  The reason is that in addition to new Apple business, the company has legacy optical business.  Competition in the optical business in China is intense.
This is a very long-term position for those who are growth oriented and aggressive.  This is not suitable for conservative investors due to the risks in its legacy business.
The buy zone for FNSR is $15 to $18.32, preferably below $16.83.  Stop zone is $13 to $13.43. Recommended size is 30% of full core position size.  The first  target zone is $22 to $24.  The second target zone is $32 to $36.
A knowledgeable investor would have turned $100,000 into over $1,000,000 with the help from The Arora Report. NOW YOU TOO CAN ALSO SPECTACULARLY SUCCEED AT MEETING YOUR GOALS WITH THE HELP OF THE ARORA REPORT. You are receiving less than 2% of the content from our paid services. …TO RECEIVE REMAINING 98% INCLUDING MANY ATTRACTIVE INVESTMENT OPPORTUNITIES, TAKE A FREE TRIAL TO PAID SERVICES.
Please click here to take advantage of a FREE  30 day trial.
Check out our enviable performance in both bull and bear markets.
FREE: SUBSCRIBE TO 'GENERATE WEALTH' NEWSLETTER