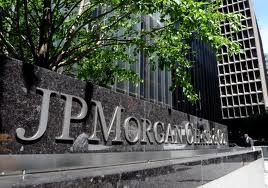 This post was just published on ZYX Buy Change Alert.
JPM is long from $34.14.  As of this writing JPM is trading at $91.52.
Earnings
JPM reported earnings better than the consensus and better than the whisper number.  All in all the earnings are very positive.
Stock Pulls Back
The stock is pulling back on good earnings.  It is simply 'buy the rumor sell the news' reaction.
Beauty Of The Buy Zone On Display
Beauty of the buy zones is on vivid display in JPM.  Back in March 2017, JPM was approaching $94.  There was an influx of new subscribers including many money managers who subscribed because they new that over the years, The Arora Report had always been spot on about bank stocks.  Bank stocks were the hottest stocks at that time.
Those who were sophisticated took to the buy zones like fish to water and patiently waited.  Those who were not sophisticated had difficulty, many wrote to us that our buy zones made no sense to them because there was no possibility of JPM falling again into the buy zone.
In May and  June of 2017, JPM fell as low as $81.64.  Since then it moved to the high of $94.51.
New subscribers who followed 'the Best Way' have been rewarded in JPM.  Over the years, similar examples abound in hundreds of buy zones.  The actual track record of buy zones is consistent with the model that projects them.  The model designs buy zones with a 70% probability of a fill in the next 120 days.
Since there are a large number of stocks available to investors and there is no compulsion to buy  a particular stock, over a period of time by taking this approach investors following 'the Best Way' often end up doubling their returns. 
Zones
Very long-term target zone is $115 to $125.  The buy zone is $77 to $84.88.  Recommended position size is 10 – 25% of the full core position size.
What To Do Now
Those who recently bought may consider taking partial profits right here. If you are mostly focused on trading and not investing, then consider taking profits on the entire position right here.
Long time subscriber who have been holding from $34.14 may consider continuing to hold.
Those not in the stock and following 'the Good Way' may consider scaling in on a 2 – 5% pull back.
Those not in the stock and following 'the Best Way'  may consider patiently waiting for a dip into the buy zone.
You are receiving less than 2% of the content from our paid services …TO RECEIVE REMAINING 98%, TAKE A FREE TRIAL TO PAID SERVICES.
Please click here to take advantage of a FREE  30 day trial.
Check out our enviable performance in both bull and bear markets.
FREE: SUBSCRIBE TO 'GENERATE WEALTH' NEWSLETTER