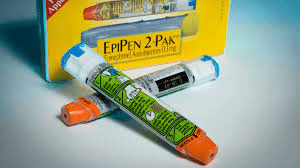 This post was just published on ZYX Buy Change Alert.
MYL is falling again on news of a Senator posting on her website misclassification of EpiPen for Medicaid.
Even if EpiPen prices cut further, this stock is easily worth north of $48.
Due to increased volatility, the best way for those who can handle additional risk is to trade without a stop.  There is nothing worse than stop getting hit just to watch the stock go right back up.
Those who cannot handle additional risk may consider reducing the quantity from the maximum recommended 30% of the full core position size.  In other words, consider using quantity in stead of stop loss as your defense.
Also changing the buy zone to $37 to $40.56.  Stops are temporarily suspended.  The plan will be to reinstitute a new stop zone when volatility dies down.  Target zone remains $48 to $49.
What To Do Now
Those in the stock may continue to hold.
Those not in the stock may scale into the position.
You are receiving less than 2% of the content from our paid services …TO RECEIVE REMAINING 98%, TAKE A FREE TRIAL TO PAID SERVICES.
Please click here to take advantage of a FREE  30 day trial.
Check out our enviable performance in both bull and bear markets.
FREE: SUBSCRIBE TO 'GENERATE WEALTH' NEWSLETTER