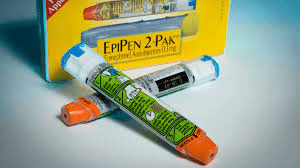 This post was just published on ZYX Buy Change Alert.
All generic drug manufacturers are falling on the news that U. S. prosecutors are starting an investigation on price collusion among generic drug manufacturers.
Of note is that MYL has the least amount of loss among the stocks in the group on the news.  The other stocks in the group are TEVA, LCI, IPXL, ENDP, and TARO.
There is speculation that charges could come down by the year-end.  Since the government has not released information on charges and evidence, it is difficult to say what the future holds.  Having said that, historically the kind of dip that is being experienced today is usually a buying opportunity.
MYL is now extraordinarily cheap.  We are temporarily suspending the target.  Temporarily for those who can afford the risk lowering the stops to $28 to $29.43; those who cannot afford the risk, a new stop is under $32.73.  We are not calling for buying on this dip since there is such a vacuum of information.
What To Do Now
Those who have a large portfolio and can afford to take the risk may consider continuing to hold.
Those who cannot afford to take the risk may consider a stop on one-half of the position under $32.73 and make a decision on the remaining half based on personal risk preference.
You are receiving less than 2% of the content from our paid services …TO RECEIVE REMAINING 98%, TAKE A FREE TRIAL TO PAID SERVICES.
Please click here to take advantage of a FREE  30 day trial.
Check out our enviable performance in both bull and bear markets.
FREE: SUBSCRIBE TO 'GENERATE WEALTH' NEWSLETTER