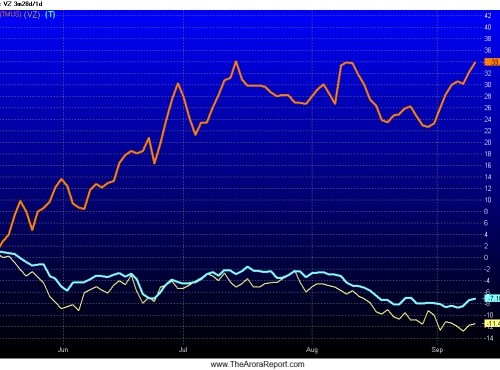 Verizon just trumped Apple by orchestrating the world's largest corporate-debt sale to date by selling $49 billion of bonds. In contrast, the previous largest corporate bond sale in the U. S. was Apple's big bond sale in April, which, in hindsight, was a mere $17 billion.
Verizon's rush is investor's gain
Verizon VZ  was in a hurry to complete the massive bond sale and, in the process, paid higher than the prevailing yields.
Verizon's hurry is investor's gain. For example, Verizon sold 10-year bonds at 57 basis points more than the existing debt with similar maturity. The yield on other maturities is also attractive. The 30-year bond was sold at 265 basis points over Treasurys, five-year bonds were sold at 190 basis points over Treasurys, and the three-year bond was sold at 165 basis points over Treasurys.
My call is that interest rates are likely to back off in the short-term before going much higher in the long-term. Investors who agree with this call and purchased these bonds in the offering will be rewarded handsomely by holding for now, but selling when interest rates back off.
My initial target for 10-year Treasurys is 2.5%. Right now, 10-year Treasurys are trading in the neighborhood of 3%.
AT&T stock is a better buy than Verizon
Those investors who are using the occasion of this massive bond sale to look at Verizon stock may be better served by considering AT&T  T  instead.
Start out by looking at a chart comparing AT&T with Verizon going back to 1984.
Please click here for the chart going back to 1984.
From 1984 to present, both stocks returned the same as shown on the chart, but there were several periods when AT&T significantly outperformed Verizon.
Now look at a comparison of Verizon with AT&T from the start of the current bull market in March of 2009….Read more at MarketWatch
FREE: SUBSCRIBE TO 'GENERATE WEALTH' NEWSLETTER