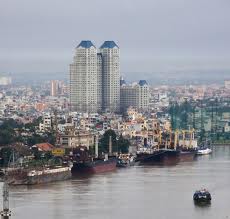 This post was just published on ZYX Emerging Markets ETF Alert.
Vietnam offers riches for the long-term patient investor for the two reasons given below.
Vietnam's President Truong Tan Sang is making his first visit ever to the United States.  His visit will provide visibility of Vietnam's long-term investment potential to American investors.
First the data shows that the countries with young demographics tend to offer better investment opportunities.  Half of Vietnam's population is younger than 25.
Second, a new powerful trend is just beginning to take hold.  Our subscribers, who reside in Western Europe and North America, know from their first hand experience that 20 years ago  there was not much on the store shelves that was  made in China.  Today, 'Made in China' label is everywhere.
Partly responsible for China's phenomenal growth has been the shift of manufacturing from the west to China.   The west was attracted to China due to its low labor costs.    Now, the wages in China are rising rapidly.  China is no longer the lowest wage country.     Certain industries such as the garment industry  are already beginning to move from China to Vietnam.  Since Vietnam possesses a labor cost advantage over China, the trend of migrating manufacturing from China to Vietnam is likely to accelerate over the coming years.
Our favorite way to invest is through the Market Vectors Vietnam ETF (VNM).
The Vietnamese market remains Neutral in the short-term and medium-term and Strong Buy in the long-term.
The reason for the short-term and medium-term Neutral ratings are macro concerns about Vietnam's currency.  However, if these concerns are resolved or VNM falls about another 10 – 15%, these ratings are likely to be upgraded to Buy.
FREE: SUBSCRIBE TO 'GENERATE WEALTH' NEWSLETTER