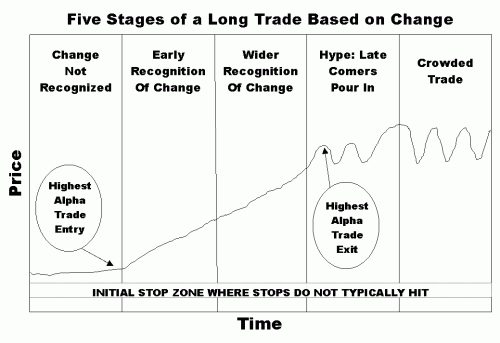 As the stock market hovers new highs, no one is talking about the dirty secret on Wall Street that is important for your portfolio.
Stocks like Apple AAPL,  Amazon.com AMZN, Facebook FB,  Alphabet GOOG,  GOOGL, Microsoft MSFT, and Netflix NFLX, have been on fire. Wall Street analysts keep on raising their targets, and investors see those higher and higher targets as a signal to buy.
But before investors take that step, they ought to understand what's behind these higher targets.
As my longtime readers know, taking a look at the five stages of a stock move as prescribed by the ZYX Change Method is very useful when making buy or sell decisions about a stock. Click here to see a diagram of those stages.
The last two stages of a stock move are "hype," which is when latecomers pour in, and a "crowded trade." Often when a stock reaches these two stages, the stock comes close to analysts' targets reached using meticulously constructed models.
Who wants to be wrong about a stock?
Even I know the answer to this question. No one wants to be wrong. Analysts earn their living by being right. If a stock exceeds an analyst's target and keeps moving up, by definition the analyst was wrong.
In my over 30-plus years in the markets, it is extremely rare to find analysts on Wall Street who have the fortitude to issue sell ratings when a stock moves above their targets. Those rare ones who do usually don't last…Read more at MarketWatch
You are receiving less than 2% of the content from our paid services …TO RECEIVE REMAINING 98%, TAKE A FREE TRIAL TO PAID SERVICES.
Please click here to take advantage of a FREE  30 day trial.
Check out our enviable performance in both bull and bear markets.
FREE: SUBSCRIBE TO 'GENERATE WEALTH' NEWSLETTER