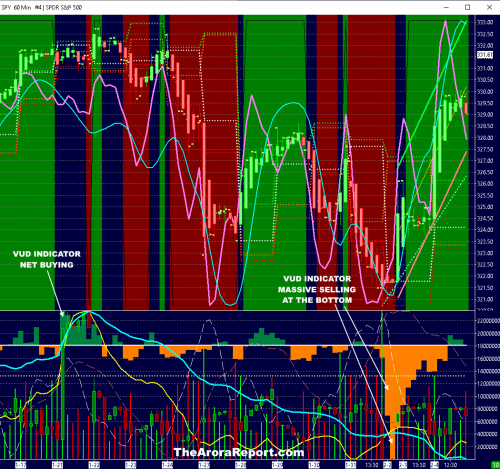 After a brief pause, the bulls in the stock market are running again.
Adding a kick to their step: A flushing out of weak hands, a potential coronavirus breakthrough, Iowa political chaos and the love (by investors) of President Trump.
Let's examine the issue with the help of a chart.
Chart
Please click here for an annotated chart of S&P 500 ETF SPY,  which tracks the benchmark S&P 500 Index SPX.
Note the following:
• The VUD indicator is the most sensitive measure of net supply and demand in real time. On the chart, the VUD indicator is shown with orange when there is net selling and with green when there is net buying.
• Focus on the big orange area in the lower pane toward the right. Notice that the big orange spike occurred right at the bottom in the stock market.
• Notice the highest green spike before the stock market started falling.
• Notice the difference in the magnitude of the green and orange areas marked on the chart.
• The sum total of the foregoing is that the weak hands have been flushed out. After this happens, there tends to be a strong two- to three-day rally.
Earnings season
Earnings season is in full swing. Among the big-cap popular tech stocks, Amazon AMZN, Apple AAPL and Microsoft MSFT reported stellar earnings. However, GOOG, GOOGL and Facebook FB reported mixed earnings. Keep in mind that, in this market, "bad" news is "good" news.
Semiconductors have been leading indicators. Intel INTC and Western Digital WDC reported good earnings, and AMD AMD,  not so good. Please see "Apple may have had blowout earnings, but these risks to the stock have emerged" and "How and when prudent investors ought to buy these 5G stocks."
Tesla TSLA experienced a massive short squeeze after game-changing earnings. Please see "A perfect combination for Tesla's stock gains — future fantasies, short selling and FOMO."…Read more at MarketWatch.
A knowledgeable investor would have turned $100,000 into over $1,000,000 with the help from The Arora Report. NOW YOU TOO CAN ALSO SPECTACULARLY SUCCEED AT MEETING YOUR GOALS WITH THE HELP OF THE ARORA REPORT. You are receiving less than 2% of the content from our paid services. …TO RECEIVE REMAINING 98% INCLUDING MANY ATTRACTIVE INVESTMENT OPPORTUNITIES, TAKE A FREE TRIAL TO PAID SERVICES.
Please click here to take advantage of a FREE  30 day trial.
Check out our enviable performance in both bull and bear markets.
FREE: SUBSCRIBE TO 'GENERATE WEALTH' NEWSLETTER