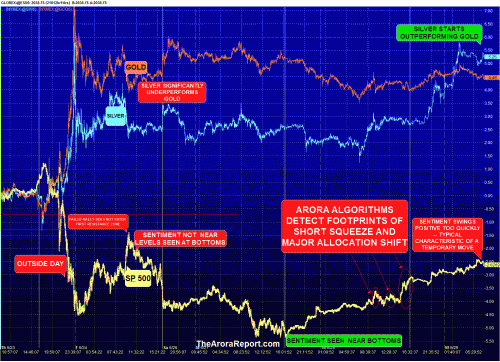 Before making any investment decisions, investors are better off understanding some of the moves by professionals that are happening now at quarter-end and before Independence Day.
The chart
Let us start by looking at a tick chart of S&P 500 futures, gold futures and silver futures. Since most investors use the SPDR S&P 500 ETF Trust SPY,  the PowerShares QQQ Trust Series 1 ETF QQQ,  the SPDR Gold Trust ETF GLD, and the iShares Silver Trust ETF SLV, normally we would have used these ETFs in the chart. However ETFs do not trade overnight, and significant action has occurred in overnight sessions. For this reason, it is important to look at futures chart.
Please click here for an annotated chart of S&P 500, gold, and silver.
Here are what I consider the important observations from the chart.
Silver has switched from underperforming gold to outperforming gold. This is significant because during geopolitical crises, silver tends to outperform gold near the bottom in the stock market. The fundamental reason behind this phenomenon is that silver is also an industrial metal. At the bottom, markets begin to foresee a better economy. The technical reason behind this is that silver is typically twice as volatile as gold.
The chart shows areas where the algorithms at The Arora Report detected footprints of heavy buying due to short-squeeze and/or asset-allocation shift. This will be discussed later in this column…Read more at MarketWatch
You are receiving less than 2% of the content from our paid services …TO RECEIVE REMAINING 98%, TAKE A FREE TRIAL TO PAID SERVICES.
Please click here to take advantage of a FREE  30 day trial.
Check out our enviable performance in both bull and bear markets.
FREE: SUBSCRIBE TO 'GENERATE WEALTH' NEWSLETTER