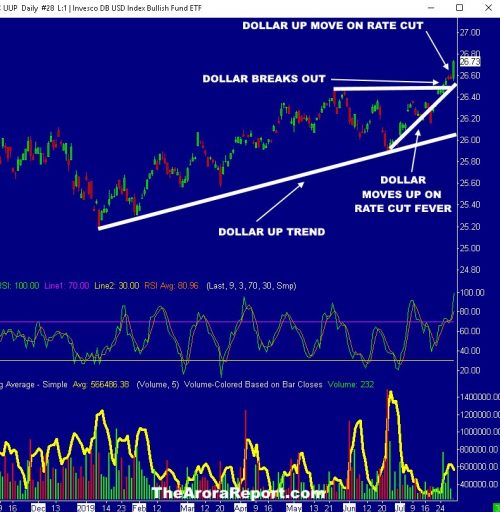 Stock market investors are addicted to easy money and, just like an addict, they want more easy money.
The bubble in many assets, not only stocks, is getting bigger across the globe. The Federal Reserve pumped more air into the bubble with an interest-rate cut, but not as much air as bulls wanted. The bulls do not like that they did not get what they wanted. Prudent investors are asking, "What now?"
Let's examine with the help of a chart.
Chart
Please click here for an annotated chart of U.S. Dollar Index ETF UUP.  Please note the following:
• The dollar index rises when the U.S. dollar moves higher against a basket of currencies.
• In theory, the dollar should go down on a rate cut and go up on a rate hike. The reason is that money moves out of a currency where the interest rate is cut.
• The chart shows that instead of going down, the dollar moved up on the rate cut.
• The chart shows the dollar previously broke out to the upside instead of breaking down as the Fed decision approached.
• The chart shows a strong up move in the dollar as the rate cut fever picked up steam.
• The dollar has moved up in the face of Trump calling for a weaker dollar. There were even reports that the Trump administration was discussing intervention to lower the dollar.
• On the rate cut, instead of moving up as bulls had been forecasting, the three popular broad-based ETFs, S&P 500 ETF SPY, Nasdaq 100 ETF QQQ and small-cap ETF IWM moved down.
• Gold ETF GLD, silver ETF SLV,  and gold-miner ETF GDX fell. Precious metal investors were positioned for a strong move up.
• The selling did not spare popular stocks such as Amazon AMZN, Facebook FB, Microsoft MSFT and Apple AAPL.
• The strength in the dollar in the face of a rate cut is a testament to the strength of the U.S. economy.
• I have been advocating that no rate cut was needed, and it appears that the Fed succumbed to political pressure, especially from President Trump. The up move in the dollar on the rate cut shows that the rate cut was not needed….Read more at MarketWatch.
A knowledgeable investor would have turned $100,000 into over $1,000,000 with the help from The Arora Report. NOW YOU TOO CAN ALSO SPECTACULARLY SUCCEED AT MEETING YOUR GOALS WITH THE HELP OF THE ARORA REPORT. You are receiving less than 2% of the content from our paid services. …TO RECEIVE REMAINING 98% INCLUDING MANY ATTRACTIVE INVESTMENT OPPORTUNITIES, TAKE A FREE TRIAL TO PAID SERVICES.
Please click here to take advantage of a FREE  30 day trial.
Check out our enviable performance in both bull and bear markets.
FREE: SUBSCRIBE TO 'GENERATE WEALTH' NEWSLETTER