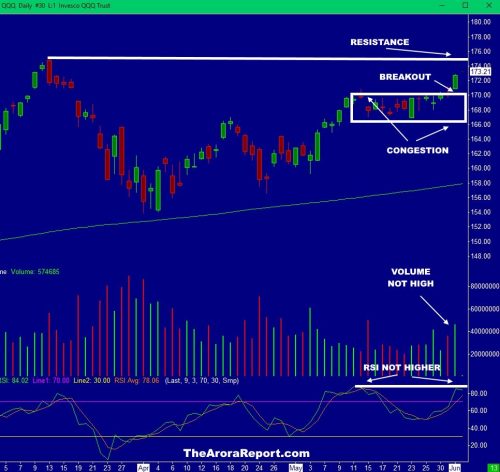 A key to success in investing is paying attention to logic and good opinions. But don't forget price action.
There's a trade war heating up. There are disappointments in negotiations with China. The Europeans are upset. Closer to home, Canada and Mexico are indignant. Common-sense logic would say that the stock market should fall, but the Nasdaq Composite Index COMP,   is breaking out of a congestion zone. Let's explore with a chart.
Chart
Please click here for an annotated chart of the Nasdaq 100 ETF QQQ.  The Nasdaq 100 NDX, is acting stronger than the Dow Jones Industrial Average DJIA, and the S&P 500 SPX. For this reason, the chart shown is not of the popular S&P 500 ETF SPY, or DJIA ETF DIA.  Please note the following from the chart:
• The chart shows the congestion zone with a rectangle. The congestion zone signified the struggle between bulls and bears with neither side winning.
• The chart shows a breakout from the congestion zone. This indicates that the bulls are temporarily winning the battle.
• Overhead resistance is nearby, as shown on the chart. This means that it is not prudent to buy aggressively here.
• The chart shows that the breakout is not on high volume. This indicates that institutions are skeptical.
• The chart shows that the relative strength index (RSI) on the breakout is not higher than the prior high. This is a negative.
Of note is that the Russell 2000, represented by ETF IWM, is also strong. Please see "This breakout in stocks means the bull market isn't about to end."
Ask Arora: Nigam Arora answers your questions about investing in stocks, ETFs, bonds, gold and silver, oil and currencies. Have a question? Send it to Nigam Arora.
What to do now
The Arora Report recently decreased cash allocations and hedges prior to the breakout shown on the chart…Read more at MarketWatch.
A knowledgeable investor would have turned $100,000 into over $1,000,000 with the help from The Arora Report. NOW YOU TOO CAN ALSO SPECTACULARLY SUCCEED AT MEETING YOUR GOALS WITH THE HELP OF THE ARORA REPORT. You are receiving less than 2% of the content from our paid services. …TO RECEIVE REMAINING 98% INCLUDING MANY ATTRACTIVE INVESTMENT OPPORTUNITIES, TAKE A FREE TRIAL TO PAID SERVICES.
Please click here to take advantage of a FREE  30 day trial.
Check out our enviable performance in both bull and bear markets.
FREE: SUBSCRIBE TO 'GENERATE WEALTH' NEWSLETTER