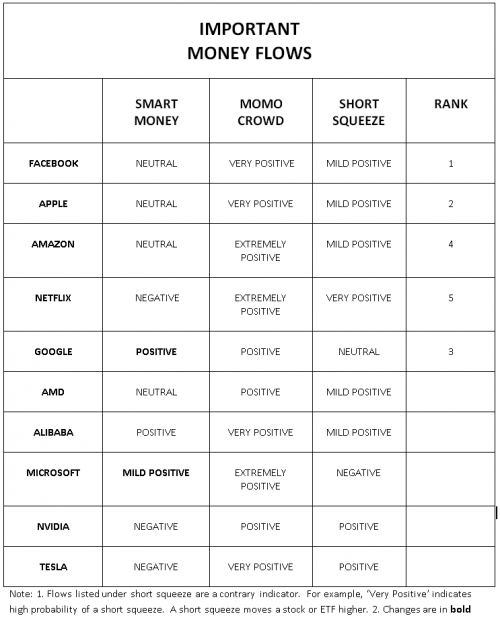 Alphabet, aka Google, and Amazon each reported blowout earnings after the stock market closed Thursday.
Here's the question I'm being asked now: "Which stock is a better buy — Alphabet GOOG,  GOOGL,  or Amazon AMZN ?" The answer depends on what kind of investor you are. Are you an investor concerned about risk? Or are you a trader wanting to make the most money from momentum with less concern for risk? Let us explore.
Ranking  
Please click here for the chart that ranks FAANG stocks based on the ZYX Change Method. The ZYX Change Method for Investing and Trading has six screens that take into account fundamentals, technicals and money flows, among other factors. Most importantly, the method takes into account risk.
All the significant positives from Amazon's earnings have been well-known. In the case of Alphabet, better known as Google, there is new information from earnings that core margins increased by 80 basis points after declining for several quarters.
As shown in the chart linked above, Alphabet is ranked third among FAANG stocks, ahead of Amazon, which is ranked fourth. The other FAANG stocks are Facebook FB,  Apple AAPL,  and Netflix NFLX.  The table also provides money flows for popular tech stocks AMD AMD,  Microsoft MSFT,  Nvidia NVDA,  Tesla TSLA,   and Alibaba BABA,  Please see "This is the one stock to buy if the stock market crashes."
Gain an edge with money flows
Please note from the chart linked above that the momo (momentum) crowd money flows are extremely positive in Amazon stock, but only positive in Alphabet stock…Read more at MarketWatch
You are receiving less than 2% of the content from our paid services …TO RECEIVE REMAINING 98%, TAKE A FREE TRIAL TO PAID SERVICES.
Please click here to take advantage of a FREE  30 day trial.
Check out our enviable performance in both bull and bear markets.
FREE: SUBSCRIBE TO 'GENERATE WEALTH' NEWSLETTER