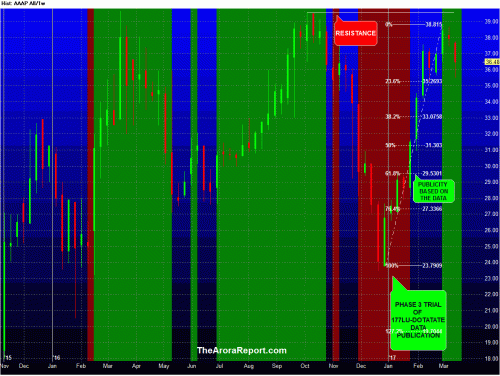 I'm constantly exposed to speculative biotechnology companies with promising treatments. But few pass our investing screens.
Advanced Accelerator Applications SA AAAP,  a 15-year-old French radiopharmaceutical company, has been getting a lot of publicity. The company claims to be close to bringing to market a therapy that targets the cancer that killed Apple Inc. AAPL, founder Steve Jobs: an unusual form of pancreatic cancer known as a neuroendocrine tumor or islet cell carcinoma.
The company, which has a market value of $1.6 billion, has other therapies in the pipeline and also a diagnostics business. Advanced Accelerator Applications' latest quarterly report showed that it posted a net loss of $7 million on revenue of $30 million. It was created as a spin-off of Switzerland-based CERN, the European Organization for Nuclear Research.
Let's review this stock by looking at an annotated chart. The New England Journal of Medicine published a Phase III trial of 177Lu-Dotatate in January. The data looked promising, and the stock took off, bringing this year's gain to 36%.
So should you buy the stock? Even though the science is promising and there is a substantial opportunity ahead for the company, there are risks. The approval process with the U.S. Food and Drug Administration and other countries' regulatory agencies can be treacherous and full of delays.
In France, the treatment has been granted temporary authorization, and the company has set an initial price of $68,600 for a course of four injections — expensive but worth it if it saves lives. Having said that, President Trump has repeatedly talked about the high prices of drugs, and he has promised to do something about it — an additional risk…Read more at MarketWatch
You are receiving less than 2% of the content from our paid services …TO RECEIVE REMAINING 98%, TAKE A FREE TRIAL TO PAID SERVICES.
Please click here to take advantage of a FREE  30 day trial.
Check out our enviable performance in both bull and bear markets.
FREE: SUBSCRIBE TO 'GENERATE WEALTH' NEWSLETTER