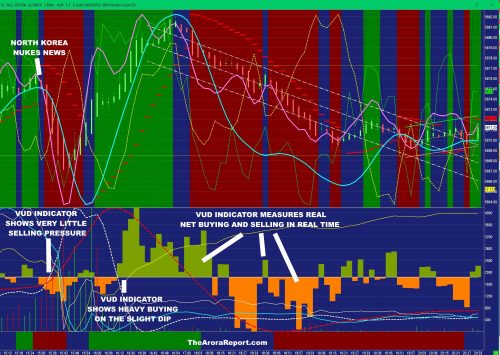 North Korea is going ahead with its nuclear program in spite of stern, repeated warnings from President Trump to stop it.
These days most investors are complacent. After all, what is there to worry about — the stock market goes up in a straight line most days. But some sharp-eyed investors are paying attention to what is happening in North Korea, and they are concerned. They are asking if they should sell stocks and buy gold. Let us determine the right answer together.
What the market is saying
To see the message of the stock market, please click here for a chart of the Nasdaq 100 futures QCN, I picked Nasdaq 100 futures because that is the strongest index at this time.
The chart shows when news of North Korea proceeding with nukes first hit. Investors who sold were met with others who were buying. The new buying briefly ran up the market higher than where it was before the news. A similar, but less pronounced, reaction was seen in popular broad market ETFs such as the S&P 500 ETF SPY, DJIA ETF DIA,  Nasdaq 100 ETF QQQ,  and small-cap ETF IWM.
The VUD indicator on the chart is the most sensitive measure of the net buying demand in real time. Green shows heavy buying demand on the slightest dip. It appears that some investors are like drunken sailors who want to buy, irrespective of the news…Read more at MarketWatch
You are receiving less than 2% of the content from our paid services …TO RECEIVE REMAINING 98%, TAKE A FREE TRIAL TO PAID SERVICES.
Please click here to take advantage of a FREE  30 day trial.
Check out our enviable performance in both bull and bear markets.
FREE: SUBSCRIBE TO 'GENERATE WEALTH' NEWSLETTER