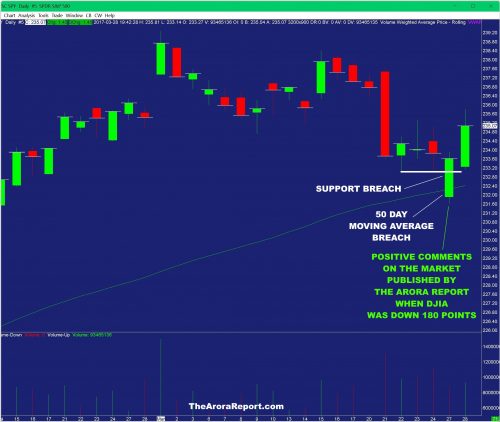 Many investors have seen their "stops" — orders to sell securities to protect from losses — triggered only to see the stock market reverse course and post gains.
Other investors have ended up selling securities on technical signals, and then the market does the opposite.
I have received many questions from frustrated investors seeking a solution. I have some tips. But first, let's explore a real market occurrence.
The annotated chart of S&P 500 ETF SPY,  shows the market conditions. (Please click here for the chart.)
Professionals recently had a field day eating the lunch of mom-and-pop investors as the Dow Jones Industrial Average DJIA,  jumped 340 points — from low to high — in a two-day span. These are the individual investors who have learned some technical analysis. In the Morning Capsule that is made available to our subscribers, I wrote: "… [T]he market has the potential to bounce after opening lower." At the time of that writing, the DJIA was down 180 points. In the middle of the widespread doom and gloom at the time, the rest of the tenor of the Morning Capsule was positive on the stock market, in line with the column published later on MarketWatch titled "Stocks would get support if Trump doesn't make the same mistake twice."
Immediately I started receiving messages from investors, who can be divided into two groups.
The first group was the techies, who were sure I had lost my mind because the market had not only broken recent support but also had broken the 50-day moving average shown on the chart. They were aggressively selling. Many investors follow traditional technical analysis. Those two developments shown on the chart are negative according to traditional technical analysis. Don't worry if you don't know the terms; I will describe them in plain English later in the column…Read more at MarketWatch
You are receiving less than 2% of the content from our paid services …TO RECEIVE REMAINING 98%, TAKE A FREE TRIAL TO PAID SERVICES.
Please click here to take advantage of a FREE  30 day trial.
Check out our enviable performance in both bull and bear markets.
FREE: SUBSCRIBE TO 'GENERATE WEALTH' NEWSLETTER