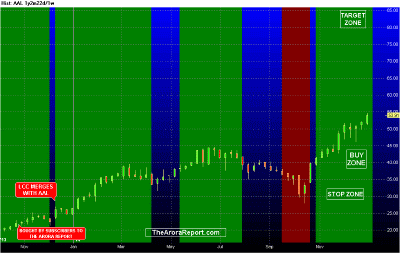 There is not a single ETF designed to profit from falling oil prices. For this reason, a custom basket is a perfect solution. The custom basket we have designed at The Arora Report has eight stocks and the possibility of adding more for diversification. One major advantage of a custom basket is that components of the basket can be separately accumulated on dips; this maneuver alone may add as much as 100% to the return. Let's take a look at what we like.
Airlines
Fuel is the biggest expense of airlines. For this reason, they are the prime beneficiaries of falling oil prices.
It appears in this cycle, airlines have the discipline to not increase capacity more than the demand, and thus they do not need to resort to price cutting to stimulate demand. The result is high sustained profits. The favorite airline stock at The Arora Report is American Airlines AAL, and this stock has 25% weighting in the basket. American has the most room ahead compared to United Continental UAL,  and Delta Air Lines DAL,  to realize synergies from a big merger. Technically the stock is overbought right now. The chart shows the buy zone on a dip and the target zone…Read more at MarketWatch    For a table with buy zones for these stocks and frequent updates, we cordially invite you to take a FREE 30 day trial to ZYX Buy Change Alert.
FREE: SUBSCRIBE TO 'GENERATE WEALTH' NEWSLETTER