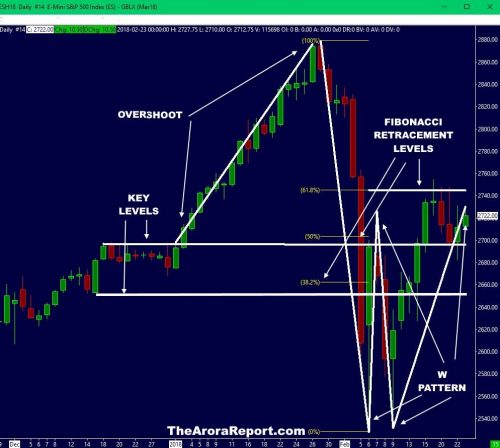 Charts used in technical analysis suggest the Dow is climbing toward 30,000.
Let's explore that idea with some background first.
When the Dow Jones Industrial Average DJIA,   was trading around 18,000 points, The Arora Report laid out a scenario for Dow 30,000.
The Dow is now trading around 25,000, and the prevailing wisdom is that the benchmark will reach 30,000. Of course, some bears are still around.
When The Arora Report first laid out a scenario for Dow 30,000, I got a fair amount of hate mail. Gurus who are now tripping over themselves to raise their targets were incredulous of that call. To be fair, the number of hateful emails was small compared to those received when The Arora Report gave a signal to sell gold (ETF of interest is GLD,  ) at $1,904 an ounce and a signal to short-sell gold. At that time, everybody was bullish on gold. Subsequently, gold fell to under $1,100. The Arora Report repeatedly laid out the fundamental scenario for Dow 30,000. Based on rising earnings, this scenario is still valid. Please see "Here's the case for Dow 30,000 in Trump's first term."
Chart
Please click here for an annotated chart. The chart is of S&P futures ESH8.  Similar conclusions can be drawn from charts of popular ETFs S&P 500 ETF SPY, Nasdaq 100 ETF QQQ,  DJIA ETF DIA,  and small-cap ETF IWM.  Futures have the advantage that they trade through the night, and some of the more important action occurs when ETFs are not trading.
Please note the following from the chart:
• A "W" pattern is forming. This is a bullish pattern.
• Please click here to see a chart that The Arora Report published at the depth of the correction to understand the progression of the W formation. We shared with our subscribers at the time that a W formation was more likely than a bearish break. …Read more at MarketWatch.
A knowledgeable investor would have turned $100,000 into over $1,000,000 with the help from The Arora Report. NOW YOU TOO CAN ALSO SPECTACULARLY SUCCEED AT MEETING YOUR GOALS WITH THE HELP OF THE ARORA REPORT. You are receiving less than 2% of the content from our paid services. …TO RECEIVE REMAINING 98% INCLUDING MANY ATTRACTIVE INVESTMENT OPPORTUNITIES, TAKE A FREE TRIAL TO PAID SERVICES.
Please click here to take advantage of a FREE  30 day trial.
Check out our enviable performance in both bull and bear markets.
FREE: SUBSCRIBE TO 'GENERATE WEALTH' NEWSLETTER