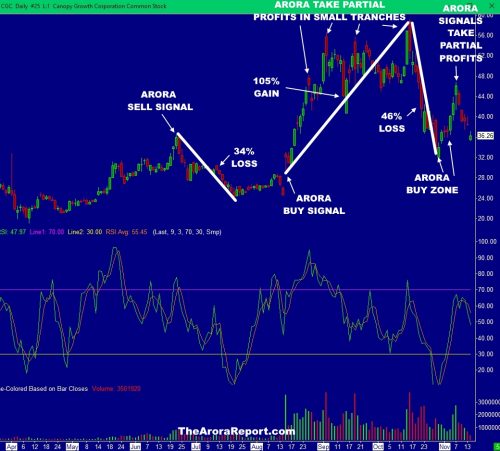 Many marijuana investors recently have been falling victim to misleading headlines. This is on top of pump-and-dump schemes and valuations divorced from reality.
My purpose in writing this column is to help investors prosper and keep them from falling victim to misleading headlines. I have been writing for a while that many people will make millions in marijuana, but many more will lose everything. If you needed additional proof of the validity of the foregoing statement, you have it in the form of marijuana-stock movements around earnings reports.
Let us first build the necessary background with the help of a chart. Please click here for an annotated chart of Canopy Growth CGC. Please note the following:
• The chart shows The Arora Report signal to take partial profits near the highs of the present swing. That was about $10 above the low price since then.
• Canopy Growth has performed better than other large marijuana stocks such as Aurora Cannabis ACB, Aphria APHA, Cronos CRON and Tilray TLRY.  Canopy Growth is a lot more stable than less popular stocks such as The Green Organic Dutchman Holdings TGODF, New Age Beverages NBEV, MedMen MMNFF and Liberty Health LHSIF.
• Canopy Growth is the bluest of the blue-chips of marijuana stocks. The Arora Report designated this stock as the core position. It has even been added to our model portfolio, which contains legendary companies such as Apple AAPL, Alphabet GOOG, GOOGL  and Walmart WMT.
• The technique we are using is to hold a small core position and surround it with trade-around positions. This technique can often double the returns and lower the risk.
• The chart shows The Arora Report buy signal. Subsequently the stock gained as much as 105%.
• Please take a few minutes and carefully study the chart and The Arora Report signals. The purpose is to see that a lot of money has been made by digging below the surface and really understanding companies.
Ask Arora: Nigam Arora answers your questions about investing in stocks, ETFs, bonds, gold and silver, oil and currencies. Have a question? Send it to Nigam Arora.
Misleading headlines
I am paraphrasing headlines across the media that end up misleading investors. They may be truthful, but they are misleading. Here are a few examples:
• Aurora Cannabis earnings surge 2,800%
• Aurora Cannabis earnings release — 260% revenue growth
• Aurora Cannabis stock surges after earnings report
• Aurora Cannabis continues to outperform   …Read more at MarketWatch.
Act Now If You Are Serious About Making Millions In Marijuana
The volatility in marijuana stocks underscores the reality that those who are serious about making millions in marijuana need more knowledge and skills to be successful.  While knowledgeable investors will make millions, those with less skills will lose their shirts.
Thank you for registering in overwhelming numbers for the coaching seminar 'How to Become a Marijuana Multi-Millionaire.'  Our subscribers make good financial decisions.  It makes sense to take advantage of the Silver Early Bird Special to save $2,005 for a limited time.  Please click here to register.
A knowledgeable investor would have turned $100,000 into over $1,000,000 with the help from The Arora Report. NOW YOU TOO CAN ALSO SPECTACULARLY SUCCEED AT MEETING YOUR GOALS WITH THE HELP OF THE ARORA REPORT. You are receiving less than 2% of the content from our paid services. …TO RECEIVE REMAINING 98% INCLUDING MANY ATTRACTIVE INVESTMENT OPPORTUNITIES, TAKE A FREE TRIAL TO PAID SERVICES.
Please click here to take advantage of a FREE  30 day trial.
Check out our enviable performance in both bull and bear markets.
FREE: SUBSCRIBE TO 'GENERATE WEALTH' NEWSLETTER