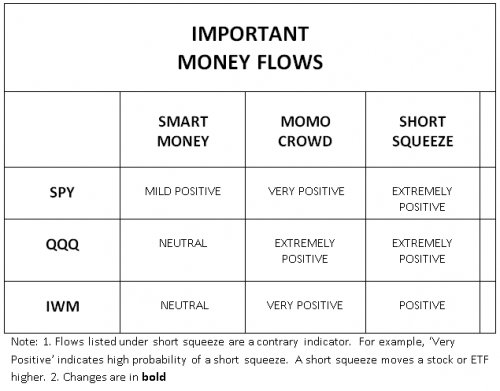 Tax reform is causing cross-currents in the stock market. There are five likely moves ahead that are of special note. The best way to know if buyers or sellers are winning as a result of those five moves is to look at money flows.
So let's look at money flows and then examine the cross-currents.
Money flows
Please click here to see money flows in three popular ETFs: S&P 500 ETF SPY,  Nasdaq 100 ETF QQQ,  and small-cap ETF IWM.  Money flows in Dow Jones Industrial Average DJIA, stocks are similar to the SPY flows shown in the chart.
Please click here to see money flows in FAANG stocks. FAANG stocks include Facebook FB,  Apple AAPL,  and Amazon AMZN.  The chart also includes money flows for popular tech stocks AMD AMD, Alibaba BABA, Microsoft MSFT,  Nvidia NVDA,  and Tesla TSLA.
FIFO is out
A provision that would have required "first in, first out" when selling stock lots was previously proposed. This would have prompted intense selling this year. In the final law, this provision will not be there. This is lifting the pressure on stocks and is bullish.
Lower rates in 2018
Many people will pay lower taxes if they sell securities in 2018. Such tax payers are likely to hold off on selling securities this year. This is bullish for the short term…Read more at MarketWatch
A knowledgeable investor would have turned $100,000 into over $1,000,000 with the help from The Arora Report. NOW YOU TOO CAN ALSO SPECTACULARLY SUCCEED AT MEETING YOUR GOALS WITH THE HELP OF THE ARORA REPORT. You are receiving less than 2% of the content from our paid services. …TO RECEIVE REMAINING 98% INCLUDING MANY ATTRACTIVE INVESTMENT OPPORTUNITIES, TAKE A FREE TRIAL TO PAID SERVICES.
Please click here to take advantage of a FREE  30 day trial.
Check out our enviable performance in both bull and bear markets.
FREE: SUBSCRIBE TO 'GENERATE WEALTH' NEWSLETTER