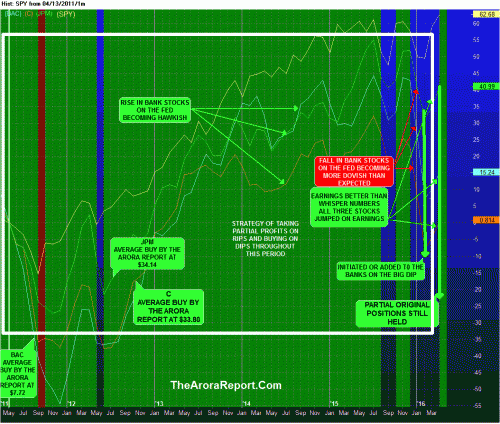 Since the great recession of 2008, I have often heard investors say that big banks have become zombie banks. They are alive because of government support, and the government will never let them make decent profits. The political rhetoric of this presidential campaign has also been very negative about big banks. Bernie Sanders has been forcefully calling for the breakup of big banks.
Stocks climb a wall of worry. Can big banks overcome the negativity that surrounds them? If yes, there is a major investment opportunity.
The definition of a zombie bank is a bank with a negative true adjusted book value, and the only reason it can operate is government support. None of the major American banks meet this definition.
Let us completely set aside innuendo at least for the moment and examine the truth.
The charts
Charts are always instructive.
Please click here for a five year annotated chart.
Please click here for a year-to-date chart.
The year-to-date chart compares JPMorgan JPM, Bank of America BAC, and Citigroup C,  with the S&P 500 SPY.  As the chart linked above shows, JPMorgan has underperformed by about 5%, Bank of America has underperformed by about 15% and Citigroup has underperformed by about 17%…Read more at MarketWatch
You are receiving less than 2% of the content from our paid services …TO RECEIVE REMAINING 98%, TAKE A FREE TRIAL TO PAID SERVICES.
Please click here to take advantage of a FREE  30 day trial.
Check out our enviable performance in both bull and bear markets.
FREE: SUBSCRIBE TO 'GENERATE WEALTH' NEWSLETTER