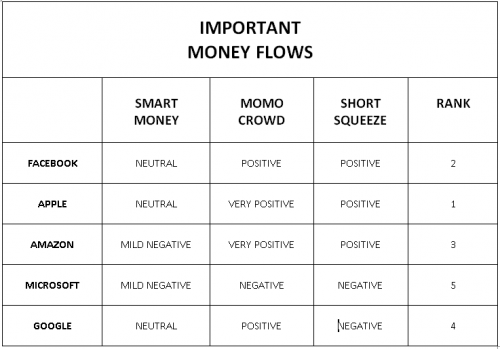 My longtime readers have been asking a lot of questions about money flows in so-called FAAMG stocks. Money flows give investors an edge when combined with the breadth indicator.
Please click here to see money flows in FAAMG stocks segmented by important categories and also ranked as provided to The Arora Report subscribers.
Please click here to see the chart of the breadth indicator of Nasdaq 100 stocks as represented by the ETF QQQ. To learn more, please see "Don't panic — the drop for tech stocks may well be a buying opportunity."
FAAMG stocks are Facebook FB,  Apple AAPL, Amazon AMZN,  Microsoft MSFT, and Google GOOG,  GOOGL.  FAAMG is not to be confused with FAANG, in which Netflix NFLX,  replaces Microsoft.
Gain an edge with money-flow segmentation
I have been watching and investing based on money flows for a very long time. But long ago I concluded that investing and trading on money flows alone did not give me the edge I was seeking. That led to the multi-year quest of developing algorithms to dissect money flows into segments. Money flows from the following three segments are the most important.
• Smart money
• "Momo" (momentum) crowd
• Short squeeze
The table linked above shows current money flows for each of the three segments as well as a ranking of FAAMG stocks…Read more at MarketWatch
You are receiving less than 2% of the content from our paid services …TO RECEIVE REMAINING 98%, TAKE A FREE TRIAL TO PAID SERVICES.
Please click here to take advantage of a FREE  30 day trial.
Check out our enviable performance in both bull and bear markets.
FREE: SUBSCRIBE TO 'GENERATE WEALTH' NEWSLETTER